Literary experience for children – not to be missed
View(s):

The Fairway Galle Literary Festival is just a few days away and there's exciting news! The MAS children's programme at the Fairway Galle Literary Festival gives the opportunity for children to take part in their own mini Lit Fest!

The Fairway Galle Literary Festival has partnered with MAS Holdings to present the MAS Children's Programme!

Coordinated by the Serendipity Trust (Guarantee) Ltd, this series of events throughout January will see children and their teachers immerse themselves in the joy of literature and other creative pursuits.

The MAS Children's Programme includes a ticketed programme of creative workshops and story telling sessions in Galle, a huge free Galle Children's Festival at Dharmapala Children's Park, outreach events for schools in Kandy and Jaffna and training and development workshops for teachers in all three locations.

Galle children's programme

Tickets are going fast for this exclusive ticketed programme. Children have the opportunity to get up close and personal with all the visiting children's authors on Saturday, January 16th and Sunday 17th in a one and a half day programme jam-packed with intimate story telling sessions led by Geeta Ranamujam, a renowned story teller from India, as well as authors Nandana Sen, Andy Stanton, Matt Haig, Anthony McGowan and AJ Low.

There are a variety of workshops including Indigo Textile Dyeing with Jenny Balfour-Paul, Creative Writing with Ovidia Yu, Puppet Making with Shari Amarasuriya and Looping with Larry T. Hill. Tickets can still be purchased for this exciting programme by visiting www.galleliteraryfestival.com or simply by visiting the box office.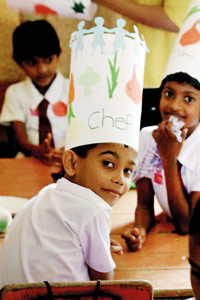 Free event
On Sunday, January 17, from 1 p.m. to 5.30 p.m. is an exciting FREE event. The MAS Galle Children's Festival will transform Dharmapala Children's Park into a children's literary playground where the only limitation will be imagination.
Thousands of children (and the young at heart) are invited to join the fun and immerse themselves in the joy of literature and other creative pursuits.
There are opportunities to interact with authors and performers from around the world, to learn about faraway places and cultures, to create hands-on upcycled masterpieces.
Visiting authors will include Andy Stanton, bestselling author of the hilarious and much-loved Mr Gum series of children's books which are published in over 34 countries worldwide, Anthony McGowan, multi-award-winning author of The Knife That Killed Me and the popular children's Bare Bum Gang series, Einstein's Underpants and The Donut Diaries of Dermot Milligan and A.J. Low, husband-and-wife writing team and co-authors of the Sherlock Sam series.
There's also Nandana Sen, award-winning actor, child-rights activist and author of Kangaroo Kisses and Mambi and the Forest Fire.
The Galle Children's Festival will also offer an afternoon of creative 'come and try' workshops in 13 different tented spaces within the Dharmapala Children's Park.
Children of all ages and abilities are welcome to drop by and enjoy a huge variety of activities such as Pottery Painting, Korean Mask Making, Face Painting, Yoga, Classical Music, Scrabble, Creative Writing, Origami, Jump Rope and more!
Performances will take place throughout the afternoon including special appearances by Australian rapper Omar Musa, spoken word by Larry T. Hill, acoustic sessions by local talent Roshan and a special performance by The Music Project Orchestra.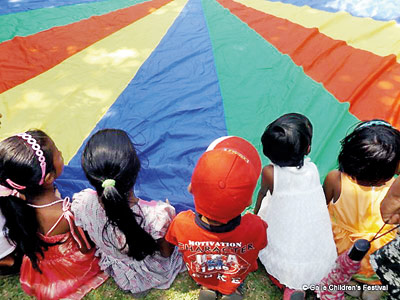 Children will also be inspired to protect their environment with many creative upcycling activities such as transforming their water bottles into pot plants with "MAS Eco Go Beyond" and their old T-shirts into funky new accessories with "House of Lonali".
Rose Abeywickrama (aka The Painting Pirate) will also be sharing her films about her oceanic conservation murals around Sri Lanka.
Schools' days in Kandy and Jaffna
In Kandy and Jaffna, local primary and secondary students will delight in free Schools' Day events.
These programmes will include story telling sessions led by Geeta Ranamujam; a 'poetry slam' by Omar Musa, award-winning author, poet and rapper from Australia; an informative up cycling session led by the MAS Eco Go Beyond programme plus interactive story telling with the British Council.
Teacher training programmes
Teachers have not been forgotten! In Kandy, Galle and Jaffna, teachers will discover the art of Story Telling in the Classroom' by experienced trainers from the British Council as well as Geeta Ranamujam.
To find out how you can get involved in the MAS Children's Programme at the Fairway Galle Literary Festival visit:
www.serendipitytrust.com or www.galleliteraryfestival.com