Army acts on photo focus expose on croc-infested waters
Story and pix by Sunil Thanthiriarachchi.
View(s):
It was a rare occasion…the provincial journalist who reported on a faulty public utility that caused inconvenience to the public was honoured.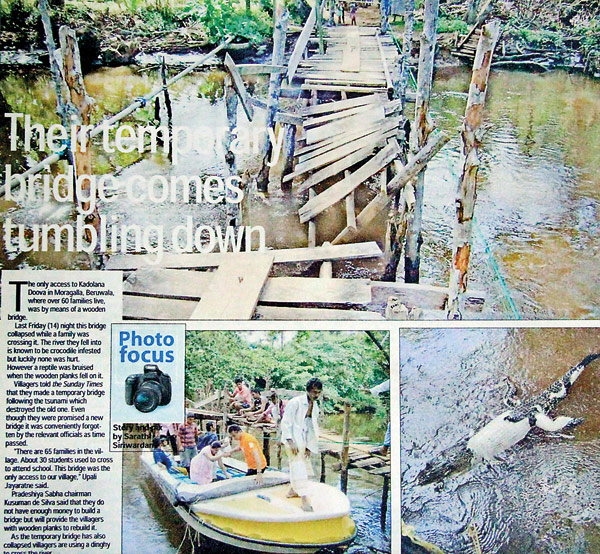 The Sunday Times reporter Sarath Siriwardane, in June 2014 revealed in these columns how the small bridge in Kadolana Duwa, Moragolla, had collapsed (see montage).
Mr. Siriwardane's photos depicted the plight of the hamlet's residents who did not have a safe bridge to cross the river. Among the images he captured was one of villagers crossing a perilously dilapidated structure while crocodiles swam in the waters below.
Mr Siriwardane's 'Photo Focus' article caught the attention of authorities in the Sri Lanka Army who stepped forward to initially carry out temporary repairs to the bridge.
They later constructed a permanent structure and invited the journalist to declare it open. Siriwardene was further honoured with the inscription of his name on the ceremonial plaque.
The new bridge made up of 200 steel bars, is 110 feet long and 13 feet wide. It cost around Rs. 75 million.
The construction was carried out by a team of skilled soldiers from the 'V Field Engineer Regiment'. Commander of the Sri Lanka Army SFHQ West Major General Sudantha Ranasinghe participated at the opening ceremony.