Hotel industry says unwise for SriLankan Airlines to pull out of Europe
European travellers looking for new destinations outside conflict-filled West Asia and North Africa
View(s):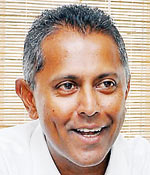 Both the Sri Lanka Tourism (SLT) and The Hotels Association of Sri Lanka (THASL) this week expressed alarm over the intended pullout of SriLankan Airlines from the European sector barring the UK (London).While there is no official intimation yet from the national carrier that it will withdraw from Paris, Rome and Frankfurt as the routes are uneconomic and loss-making, the airline has said in the past that this is under serious discussion under the rationalisation process.
"This is not the time to pull out particularly when Europeans are looking for new destinations since (travel to) the Middle East (West Asia) is becoming an issue for them," Hiran Cooray, THASL President and Chairman, Jetwing Hotels told the Business Times. His comments follow a statement by SLT that it was developing strategic partnerships and new alliances with other carriers serving Europe "While there is an uncertainty of SriLankan Airlines continuing to operate in Europe and several other destinations of choice, Sri Lanka Tourism hopes to enter into strategic partnerships with new and existing airlines connecting the regions …," SLT said.
Mr. Cooray said the THASL has urged the national carrier that this was not the time to withdraw from Europe. "What we are told being discussed is that the airline may retain Frankfurt. But we urge that both Paris and Frankfurt are retained."He said Europeans are finding it difficult to travel to Islamic countries due to political unrest. Places like Turkey, Tunisia, Morocco, Algeria and Eqypt are popular summer destinations frequented by millions of Germans and French who now find it more and uncomfortable to visit these locations.
"SriLankan Airlines may have had losses on these routes in the past but they must think of the future. There is an opportunity now to bring in more visitors from these countries. From a business point of view we should not give up the market share we have in France and Germany to somebody else who'll grab the opportunity," he said. Market share of the two countries have seen positive growth. Arrivals from Germany in 2014 rose by 20.5 per cent from the previous and 22.5 per cent in the case of France in the same period. Arrivals from Germany and France for the period January-November 2015 rose by 13.5 per cent and 10.2 per cent, respectively from the same 2015 months.
(Feizal)