Reaffirming cooperation and collaboration
View(s):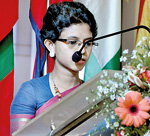 The SAARC cultural centre in Sri Lanka celebrated the 31st annual SAARC charter day on December 8 at Asylum Restaurant, Arcade Independence Square. The cultural centre launched their revamped website http://www.saarcculture.org/ at the event. In his welcoming speech, Mr. Wasantha Kotuwella, Director SAARC Cultural Centre said 'May we all take the opportunity to reaffirm and confirm how lucky we are to be amongst each other, next to each other and part of each other's lives.'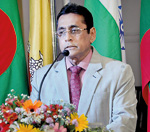 President Maithripala Sirisena, in a message released to celebrate the day, pledged the commitment of the government of Sri Lanka to work in close cooperation and collaboration with other member nations to achieve the goals and objectives of SAARC for the benefit of the people. Prime Minister Ranil Wickremesinghe stated in his message that SAARC countries 'possess diverse cultures rich in colorful customs and traditions of significance, going back to thousands of years' which the SAARC cultural centre has worked tirelessly to showcase as a common identity which unites the nations while foreign minister Mangala Samaraweera's message stressed upon the importance of working collaboratively in order to intensify the efforts of member nations to overcome the problems faced in achieving their objectives. Secretary General of SAARC Mr. Arjun B. Thapa's message extended his warmest felicitations to the peoples and Governments of the SAARC nations.