Korean NGO, Good Partners donates bus for CKD patients in Trincomalee
View(s):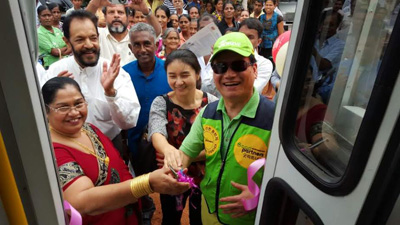 Good Partners, a Korean NGO based in the Republic of Korea, in partnership with the Association for Social Development (ASD) in Sri Lanka donated a bus to the village of Padavi Sripura in the Trincomalee District. The bus is used for patients suffering Chronic Kidney Disease (CKD) in Padavi Sripura, which is reported to be one of the areas worst affected areas by CKD. Currently, CKD patients in this area travel long distances to hospitals in Medawachchiya, Anuradhapura and Kandy, in order to receive treatment, and with the donation of this bus, it is hoped that they would have more access.
The event was held as part of the Project Hope undertaken by the Good Partners in Padavi Sripura. The people in this area have benefited greatly under Project Hope, being given water filtering systems, scholarship programmes, and a vocational training centre for Korean language and computer education. A manager and two volunteers from the NGO serve in Padavi Sripura.
On this occasion, spectacles and shoes, provided by the Good Partners and the Embassy of the Republic of Korea respectively, have been also donated to the villagers. Minister of Road Development, Irrigation and Inner Harbour Road of Eastern Province Ariyawathi W.G.M. Galappaththi, Minister of Services and Health of Eastern Province, Ahamed L.M. Nazeer, and Councilor Jun Ji-sun of the Embassy of the Republic of Korea spoke at the ceremony.