A year of yahapalanaya
View(s):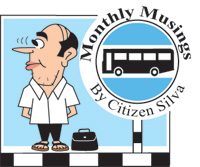 A year has gone by since a group of government MPs led by Mahinda Rajapaksa's hitherto loyal Minister of Health Maithripala Sirisena revolted against the sitting President.
Claiming that they would usher in a new regime of righteous government (nicely sloganised into the catchy Yahapalanaya), they gathered unto themselves others who also felt that the Rajapaksas had to be removed. Although Mahinda Rajapaksa had led the country to victory over the LTTE six years ago and ended the war, the subsequent mismanagement and corruption under his presidency was proving too much even for us tolerant Sri Lankans – and on January 8th 2015 we resoundingly delivered our verdict through the ballot box.
Looking back on the past twelve months, I have been asking myself: has the situation really changed with all this promise of Yahapalanaya?
In those days Mahinda's sons enjoyed a privileged position in the country – being virtually above the law and allowed to indulge themselves in their chosen hobbies of night car racing and rugger playing. These days President Sirisena's son (neither a Foreign Service officer nor a member of parliament) is similarly enjoying a privileged position – being taken to the United Nations General Assembly as a member of the official Sri Lanka delegation.
In those days President Rajapaksa's brother in law Nishantha Wickramasinghe was made the Chairman of Sri Lankan Airlines – and we all know what a tender-less mess he made of that enterprise. These days, President Sirisena's brother P.G. Kumarasinghe Sirisena has been the appointed Chairman of another money-making organization, Sri Lanka Telecom.
In 1960 President John Kennedy, when criticized for appointing as Attorney General of the US his brother Robert Kennedy (who had no previous legal experience in any state or federal court), laughed off the criticism with the jest that he as President needed someone he could trust. In 2015 Minister Arjuna Ranatunga, when asked why he appointed his brother, Dhammika Ranatunga as Chairman of the Ports Authority, is said to have provided a similar reply. Of course Robert Kennedy had a law degree and went on to prove himself in office. Dammika Ranatunga's only claim to fame is that as a cricketer he played in two tests for Sri Lanka. We can only wish him well and hope that Dammika, who unlike Bobby Kennedy does not have a law (or any other) degree, can help his brother by carrying out Arjuna's instructions and look after the Ports Authority.
Now the word democracy itself comes from two Greek words demos meaning 'people' and kratos meaning 'power'. The fundamental idea is that the people hold power. I have realized over the past year of Yahapalanaya, however, that we people don't really hold or have any power once we have finished voting.
The way democracy is operating in our country, we the people are being hoodwinked by those who crave power. We vote to elect representatives into parliament – and soon we find that those whom we have not voted for have been appointed into parliament through the back door by the president. Perhaps he is wiser than us and knows better than we people do what is good for the country. More likely, of course, he (like Mahinda) needs the support of these chameleon – like rejected politicians so that he can hang on to his own position – and keep them sweet and favourable to him by rewarding them with plums of office. We all know that Mahinda made no secret of the fact that he used his position to look after his own, and freely distributed perks and ministries to keep disloyal politicians loyal. He was a wolf – but a wolf in wolf's clothing.
The present set of leaders despite all their talk of just government are starting to behave exactly like Mahinda did in gifting what they believe is theirs to distribute – from ministries to chairmanships – to keep the fickle parliamentarians on both sides of the house happy. Our present leaders are behaving like wolves no different from the previous leaders – and the sheep's clothing they wear is fooling nobody.
We are once more being taken for a ride by the holier than thou politicians who got together to depose Mahinda Rajapaksa because he was presiding over an administration that was riddled with nepotism, favouritism and corruption.
Today those very people who got rid of Mahinda are gradually developing into an administration that, just like in George Orwell's Animal Farm, is beginning to look and behave just like the administration they replaced.