Selyn sale for last minute shoppers
View(s):

Ushering in the season in their own unique style, Selyn together with Andrea Boekel present "Colours of the Season". A name synonymous with bold colour and their signature use of handloom fabric, Selyn will include a myriad of clothes and homeware threaded together with the holiday spirit.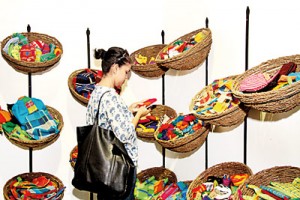 Joining them is a long time collaborator Andrea Boekel, a celebrated name in local sewing circles. Her skill with lace and embroidery is a surprising harmony to Selyn's style of rustic elegance.
Together the two collaborators have offered Colombo's shoppers exquisitely crafted pieces; each etched with their own personality.
This year's sale is dedicated to "the last minute shopper". From delicately embroidered linen with Brussels lace and shadow work, to loud, festive home ware and funky fabric jewellery the sale will be a jamboree of apparel, festive gift ideas and home items.
The duo also hopes to give their customers a serious message amidst it all. "We want it to be a sustainable Christmas," explains Andrea. Since their inception over 20 years ago, Selyn has been Sri Lanka's only Fair Trade guaranteed Handloom Company engaging local weavers to produce handmade products.
Andrea too employs urban and village women, most of whom are the single breadwinners of their families. "Our joint aim" says Sandra Wanduragala, "is to uplift women. To give them a feeling of self worth."
"Colours of the Season"- A Sale by Selyn and Andrea Boekel will be held on December 19 from 10 a.m. onwards at Selyn, No. 102, Fife Road, Colombo 5.