Raising the bar
By Chandani Kirinde
The first woman to hold the post of Principal of the Sri Lanka Law College, Indira Samarasinghe is keen to improve standards
View(s):
For Indira Samarasinghe, the first woman to hold the important post of Principal of the Sri Lanka Law College in its over 140 year history, it is a return to familiar territory.
During her work in the legal field spanning more than three decades, she would often visit the College as a visiting lecturer imparting to aspiring lawyers what she first learnt herself in the precincts of the Law College.
Now occupying the highest seat at the only institute in the country that trains persons for admission to the legal profession, Mrs. Samarasinghe is keen to use her stint as Principal to improve standards and introduce students to newer areas in legal studies.
"This is the most challenging job in my legal career but I am happy to take it on. My goal is to ensure that when a student passes out an as attorney, he or she is able to stand on their own feet,' she said.
An old girl of Visakha Vidyalaya, Colombo, Mrs. Samarasinghe entered Law College in 1972 being encouraged by a grand aunt, who was an educationist.
Though she did not hail from a family with connections to the legal profession, she was drawn to it due to its challenging nature.
"My father was an agronomist, one of the first to be selected to the Faculty of Agriculture at Peradeniya Campus and my mother was a housewife.
She had been keen to become a pharmacist but my father did not want her to work and hence she became a full time mother to my five siblings and me," she recalled.
By the time Indira was done with school, times had changed and there were fewer impediments to women pursuing a career. "I was selected to university too but when I gained entrance to Law College I decided to concentrate on it," she said.
After passing out, she worked briefly at a private law firm and then joining the Legal Draftsman's Department was an Assistant Legal Draftsperson where she specialised in review and consolidation of legislative enactments. She retired from the Department in 2012 after 31 years of service having reached its topmost position of Legal Draftsperson.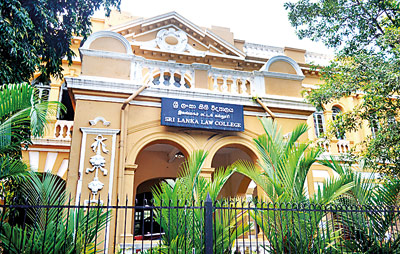 Even while at the Legal Draftsman's Department, Mrs.Samarasinghe's link to the Law College remained steady as she was a regular visiting lecturer at the College.
"I would lecture students on law of property, testamentary procedures etc. and hence I have had a long association with the Law College over the years," she said.
It's early days on the job for Mrs.Samarasinghe but she is keen to widen the scope for law students in consultation with the Council of Legal Education with more emphasis on subjects such as environmental law, international commercial law and Information technology related subjects.
Another issue she is keen to address is the lack of space at the College as demand for legal education grows. "We have around 200 students entering the College directly as well as those who pass out from the law faculties at state universes who come here for their professional training.
Then there are others who study law at private institutes too who we have to enrol as students," she explained.
Mrs. Samarasinghe begins her new job as the Law College enrols a new batch of 213 students for the academic year 2016. She has taken time to personally engage with the new entrants and address their concerns and answer questions they have regarding what their next three years at the College would be like.
"We have to give a hearing to the needs of the students. I am direct in my approach and address their concerns in a forthright manner," she said.
Married to attorney-at law S.C.Samarasinghe, she too has had to face the challenges that all working women who raise families have to face.
"I have had the support of my siblings over the years hence juggling work and home and raising my son was much easier," she said.