A journey with Banyan trees
View(s):

"Twenty years ago, I went to the Andaman Islands in India on a holiday from Pakistan. That is where I first saw Banyan trees," say Japanese artist Ikuko Deguchi-Peters whose exhibition 'Banyan Trees in Sri Lanka' is on display at the Paradise Road Galleries.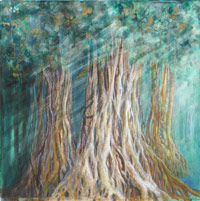 "Since then, it was deep inside my conscience. Ten years later, when I arrived in Sri Lanka for the first time, I saw the Banyan trees again. Primitivism and the strong life of this tree became my main theme from that moment," she explains.
"I like using perspective form which is very different from Japanese art. Using acrylic paint is a very practical method. I don't use oils at all. I have developed my own technique by combining Japanese and European art techniques," she says.
The exhibition continues until December 17, daily from 10 a.m. to midnight.