Wreckers of underwater treasures must be stopped
By Malaka Rodrigo
View(s):
Fish are being dynamited as they shelter in the historically important shipwrecks scattered around Sri Lanka's coastline, damaging valuable eco-systems and putting tourist earnings at risk.
Blast fishing is one of the most destructive fishing practices, used to stun or kill schools of fish for easy collection. The explosion destroys underlying habitat such as coral reefs that supports fish as well as other marine life.
Fishermen detonated explosives in the wreck Orestes, also known as Tango Wreck, which lies off Hikkaduwa, according to divers posting on the SubAqua Club forum.
A few months ago, another incident was reported by diver and marine expert Nishan Perera who took photographs of many dead big and small fish floating near the British Sergeant wreck off Passikudah after a dynamite fishing explosion. The wreck suffered some damage and nearby coral had been broken.
"On that day we reached British Sergeant around 9am and there was some fish floating on the surface, gasping for air," said Thusitha Ranasinghe, an amateur diver who witnessed the destruction.
"We immediately knew that the ship wreck has been dynamited a few minutes ago and that the fishermen had left when they saw us coming.
"When we dived there were a lot of dead fish on the seabed and trapped on the deck of the sunken ship, and a lot of half alive fish trying to keep their buoyancy and gasp for a last bit of air," he added.
There could be more than 200 shipwrecks around the coast, about 50 of which can be reached by diving, according to the comprehensive Dive Sri Lanka website.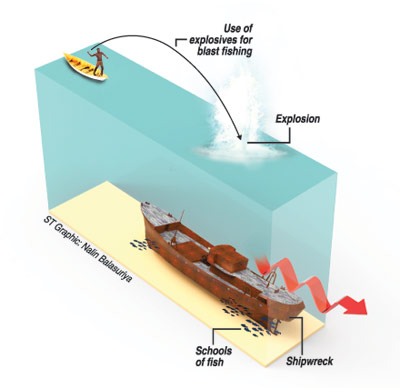 Five hundred years of trade, commerce, conflict and war from the time of the Portuguese, Dutch and the British resulted in a vast amount of shipping traffic all round the coast and a corresponding high number of wrecks, Dive Sri Lanka states.
Most of these wrecks have been located, including world's first purpose-built aircraft carrier, HMS Hermes, which was sunk off Batticaloa.
Shipwrecks creating special underwater attraction providing shelter for marine life becoming potential to be steady magnets for dive tourism that is still in at fancy level.
There is also the danger that fishermen dynamiting a wreck might do so carelessly while there were divers underwater. The Editor of Dive Sri Lanka, Dharshana Jayawardena, recalled one such incident, "It was scary.
It sounded like a tank exploding underwater, and the foreign tourists who were underwater with us were really scared. Fortunately, the dynamiting happened about 1km away, but the tourists with me swore they would not come again to Sri Lanka," Mr. Jayawardena said.
"The dive industry in Sri Lanka is poised to grow hugely so this will have some real impacts on our international standing and ability to compete in the international dive market quite apart from the terrible environmental consequences" said Naren Gunasekera, who is lobbying to stop blast fishing.
Statistics show there are 23.7 million certified scuba divers in the world with 2.7m going on diving holidays. They are reportedly big spenders so this niche tourist segment would be economically beneficial but if we destroy our corals and shipwrecks there wouldn't be anything to attract the tourists, Mr. Gunasekera points out.
A sunken ship turns to an artificial coral reef, providing living and breeding habitat for enormous amounts of marine life. Dynamiting these shipwrecks for their fish and the metal is like killing the goose that lays the golden eggs.
Dynamite is not only used on coral reefs and shipwrecks, it is being thrown into nets where large schools of fish are caught in order to prevent the fish tearing the net. Marine mammals such as dolphins and even the endangered dugongs are reported to be killed by dynamiting.
Sadly, because the destruction happens underwater, only divers can see the damage. It is important that the authorities understand the issue and take action to stop it, marine activists say.
It is, however, very difficult to carry out raids at sea to nab blast fishing culprits as they are highly organised, using mobile phones to convey alerts of approaching navy or police boats and dumping the evidence.
The fish die mostly of the shock wave, hence there is no physical damage that helps to prove they have been killed by blast fishing.
"Action to stop blast fishing needs to be taken on land, not at sea," says Arjan Rajasuriya who was formally at National Aquatic Resources Research and Development Agency (NARA).
"Find out how these fishermen get dynamite and take action to stop it at source."
As blast fishing is widespread, happening daily in many parts of Sri Lanka, Mr. Rajasuriya points out that those who illegally acquire a huge amount of dynamite should in any case be considered a threat to national security.
"In the same way that police and security forces nabbed the terrorists during the time of war, a good intelligence network is needed to find the source of the dynamite supplies and then stop them getting them into the hands of fishermen," he said.