Tripitaka chanting ceremony by Maha Sangha in Kandy for fifth time
View(s):

The Maha Sangha is to chant the tripitakaya at the Audience Hall in Kandy on December 18, 19 and 20, for the fifth time with the participation of over hundred members of the Maha Sangha drawn from various parts of the country of the two Maha Vihares Asgiri and Malwatte.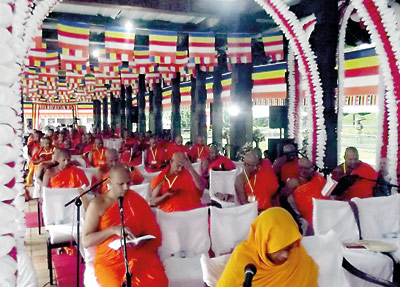 This tripitaka chanting ceremony is organised by the International Tripitaka Chanting Organisation which had its 13th chanting ceremony in India where it originally commenced.
The first chanting ceremony in Sri Lanka was held at Anuradhapura where the sacred bo tree is housed in 2011.
The Maha Sangha from Sri Lanka and the Sangha from overseas participated in the chanting of 30 stanzas from selected Sutta followed by a discussion at the end of each Sutta in 2014.
The chanting ceremony in Kandy in 2014 was held with the concurrence and guidance of the Maha Nayaka Theras of Malwatte and Asgiri and the Diyawadana Nilame.
The organising committee is headed by Madam Wangmo Dixey from the Light of Buddhadharma Foundation International which is sponsoring the event.