Menace of hidden HIV revealed
By Anushiya Sathisraja
View(s):
About nine new HIV infections occur each week in Sri Lanka and only four of them are detected, the National STD/AIDS Control Programme (NSACP) says.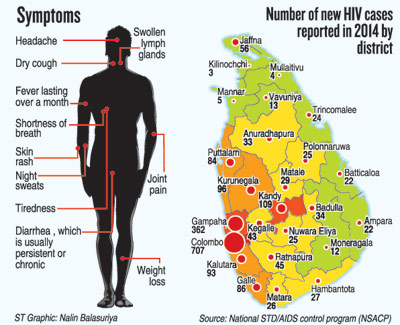 The undetected HIV-infected people pose a significant risk to society, NSACP Director Dr. Sisira Liyanage said. HIV continues to be a major global public health problem that has claimed more than 34 million lives.
Most cases – 55 per cent – are in the Western Province with about 10 per cent on average from other provinces according to last year's figures. The highest number of cases are in the Colombo, Gampaha and Puttalam districts with more than 10 cases per 100,000 per head of population.
Dr. Liyanage said 707 HIV positive HIV cases have been reported from Colombo District while there were 362 in Gampaha, 109 in Kandy and 96 in Kurunegala to date.
Reported new cases this year are expected to reach 235, an increase from last year when 228 HIV cases were reported, Dr. Liyanage said. Out of 170 cases identified this year, nine are pregnant women. Out of those nine, six HIV-positive pregnant mothers have already delivered HIV-positive children.
"HIV tests have so far been conducted on almost 60 per cent of pregnant mothers and by the end of next year HIV tests will be conducted on all parents.
We have identified huge number of cases due to more people coming for the testing and following the awareness programmes being carried out across the country,", Dr, Liyanage said.
"Awareness campaigns are mainly concentrated among high-risk groups such as female sex workers, drug addicts, beach boys, prisoners and men-having-sex-with-men.
Other groups such as truck and three-wheeler drivers are also being informed about HIV," he explained.
Since the first case of AIDS was reported in Sri Lanka in 1987, 357 AIDS deaths have been reported. In 2013, 93 people died of AIDS while in this year 21 AIDS-infected deaths have been reported for the first nine months against 26 deaths reported for the entire year of 2014, Dr. Liyanage said.
Patients diagnosed with HIV should adhere to scientifically proven treatment, he said. When anti retro viral (ARV) treatment is taken, the viral load in the blood is undetectable and HIV would not be transmitted to others. This treatment can be used as a prevention as well.
Some patients who have stopped our treatment and switched to traditional methods have ended with death. So, "I advise everyone tested positive with HIV to adhere to our ARV treatment without opting for any other method.
World AIDS Day this week was marked with several programs including "Test Today" at Galle Face Green with the Beetle Owners Club joining UNAIDS Lanka to publicise the event.
UNAIDS Country Officer Dr. Dayanath Ranatunga said more than 150 people were tested on the day.
"I'm glad that many people came forward to test without any hesitation because the stigma and the unwillingness to talk about HIV are one of the reason it continues to spread," he said.
"Getting tested every six months if you're sexually active, or asking your doctor for an HIV test when you go for a check-up, might help to detect HIV at the initial stage."
He said a Worlds AIDS Day program with entertainment, education and live bands also took place in Batticaloa and drew a massive response.
"Nearly 50 per cent of HIV-infected people are not aware that they are infected with HIV or AIDS," he said.
Unsafe sexual behavior of television, social apps and online dating resulted in a much higher turnover of sexual partners, increasing the risk of AIDS – more than 25 per cent of new relationships now started through online dating.
Dr. Ranatunga said symptoms of AIDS include persistent fever or diarrhoea and severe weight loss.
People need to be more educated over sexual health and sexual responsibility, including testing for HIV, no matter how and where they meet their partner, he said.
HIV is found in the body fluids of an infected person — semen and vaginal fluids, blood and breast milk. The virus is passed from one person to another through blood-to-blood and sexual contact.
In addition, infected pregnant women can pass HIV to their babies during pregnancy, childbirth and through breast-feeding. Intravenous drug use is an important factor in HIV transmission. Sharing needles can expose users to HIV and other viruses.