Farmers in black loin cloth to plough Colombo in protest
By Kasun Warakapitiya
View(s):
Farmers dressed in black loin cloth carrying mammoties and sickles are to converge on Colombo on Thursday for a demonstration against the budget proposal to provide them with vouchers for Rs. 25,000 to buy their own fertiliser instead of providing them with subsidised fertiliser at Rs. 350 a bag.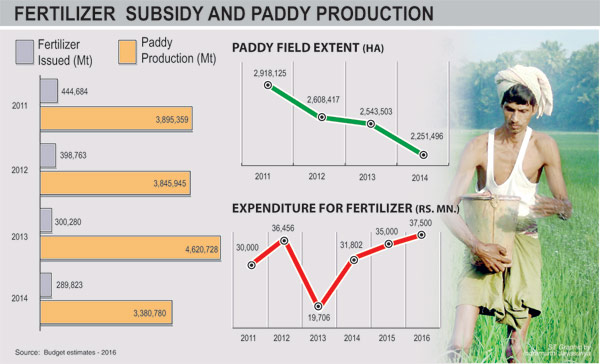 The Janatha Vimukthi Peramuna-backed All Island Farmers Federation (AIFF) is spearheading the campaign, but will be backed by other farmer associations in various parts of the island.
The campaign will be the climax of an ongoing protest campaign which began on December 4 in Ampara.
AIFF National Organiser Namal Karunaratne said that if the voucher proposal was not changed the farmers would converge outside Temple trees, Parliament or the Presidential Secretariat. Farmers have expressed concern as to how the proposed voucher scheme will be implemented.
Farmer family members have also expressed concern that the money might be wasted on liquor or gambling instead of buying fertiliser.
He said that from Ampara, their protest campaign had gone to Embilipitiya, Anurdahapura, Mahiyanganaya, Kurunegala and Polannaruwa. They were now coming to Colombo.
Mr Karunaratne said fertiliser had increased and the voucher money would not be sufficient to buy fertiliser for next year. Other farmer groups said the voucher system was confusing.
Polonnaruwa paddy farmer P.K.G Ranbanda said he believed the the voucher system was misleading and even deceitful. He said the Government or the Agriculture Ministry had failed to explain the process of getting the voucher.
Hakwatuna Mahasen Farmers Association leader R.M Ratnayake said that up to now they got a 50 kilo bag of fertiliser for Rs 350.
"Earlier we got 134 kg of urea fertilizer for 2.5 acres along with 35 kg of potassium and 45 kg of TSP fertilizer. But in the previous budget, this was reduced to 86 kg of Urea, 20 kg of potassium and 32 kg of TSP.
The supply was cut down by 50 per cent. Now all this is being withdrawn and we will get a voucher which we see as a move to get rid of the fertiliser subsidy," he complained.
Another farmer L.A.T Pushpakumara said a voucher worth Rs. 25,000 was not enough to buy fertiliser for a year. He expressed fears that they would be unable to cultivate for both the "yala and maha" seasons because the money was not enough to buy fertilizer for even one season.
Another Polonnaruwa farmer, Upali Jayasekara, said policies of the country were being made by officials in air-conditioned offices and blissfully unaware of the struggle of the farmers in village fields.
"We face poverty issues. We struggle to earn a living. Now they tell us to buy our own fertiliser. That is difficult because we have no way of testing the quality of the fertiliser," he said.
The Finance Ministry in response to the protest said it had allocated Rs. 37.5 billion for the fertiliser subsidy, compared to Rs. 35 billion in the previous budget.
Agricultural Minister Duminda Dissnayake admitted that there were some issues on what the farmers would do with the money. He explained that the Government would have to work out a streamlined way of issuing the vouchers and monitor how the farmers were using the money.