Singing Christmas Tree comes alive again at MLH
View(s):

The Singing Christmas Tree at Mount Lavinia Hotel will come alive this year from the 16th to 23rd December, adding to the line-up of events at the colonial heritage hotel.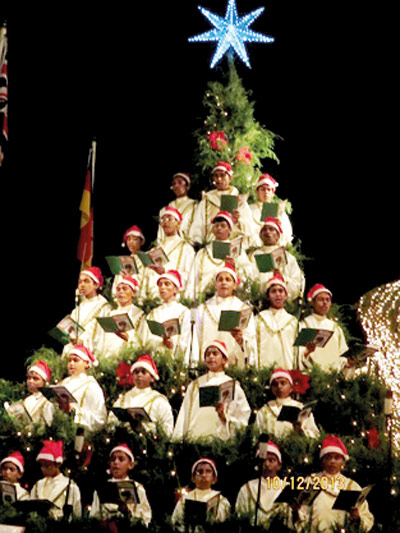 Featuring a host of angelic voices of choirs from several leading schools in Colombo, the Singing Christmas Tree has become an iconic event at MLH, looked forward to by many.
Emerging from the tradition of singing around the Christmas Tree, the first 'Singing Christmas Tree' also known as the 'Living Christmas Tree' was created in 1933 in Belhaven University, Jackson, Mississippi.
The tree which was initially outdoors was subsequently incorporated indoors as part of Nativity plays. The idea of the Singing Christmas Tree was introduced at Mount Lavinia Hotel three years ago, and has since become an emblematic event of the hotel.
It has evolved into a platform where such choirs as the Jesus College Choir from Cambridge, UK have performed in the past.
This year, the Singing Christmas Tree will be brought to life by the choirs of;
St. Joseph's College -16th December
St. Benedict's College -17th December
Good Shepherd Convent, Kotahena – 18th December
Metho Cantanti – 19th December
St. Sebastian's College, Moratuwa – 20th and 23rd December
Holy Family Convent, Dehiwala – 21st December
Convent of Our Lady of Victories, Moratuwa – 22nd December
'The idea of the Singing Christmas Tree was novel to us when we introduced it several years ago, and every year Team MLH is equally excited to host this event. This is our way of welcoming the season of peace and joy,' commented Tinaz Amit, Public Relations Manager, Mount Lavinia Hotel.