Panchali;Tragedy of black magic
View(s):

At a time when traditional black magic, Bali and Thovil are gradually disappearing from Sri Lankan society, teleplay 'Panchali' revolving around a tragic story is now being telecast at 8.30 pm on every Sunday on National Rupavahini.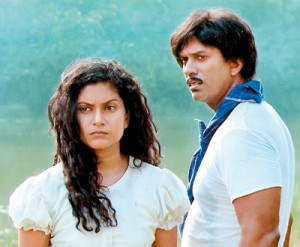 Story, dialogue, and screenplay by Sanath Samaranayake, the teledrama 'Panchali' is set in a remote village in 1950s. The Welvidane in the village is a wealthy person and his wife Kumarihami is a descendant of an aristocratic background. Their daughter Bisomenika is loved by everyone.
Ralahami the younger brother of Kumarihamy comes to Walawwuwa to live with his sister. This is after he had a brawl in his own village.
Both Welvidane and Kumarihamy welcome Ralahamy to their house and treat him well. All hell breaks loose when Welvidane reveals to the Ralahamy about a treasure that is hidden in a mountain.
Greedy Ralahamy decides to own this treasure and in his attempt to fulfill his desire several people have to pay with their lives.
The cast consists of Niroshan Wijesinge, Sandani Tharuka Wanniarachchi, Roshan Pilapitiya, Dilini Lakmali, Madani Malwatte,Uditha Abeyratne, Sanjeewa Upendra, Nilmini Buwaneka, Wilmon Sirimanna, Gayathri Rajapaksa, Buwani Diyalagoda, Dayasiri Hettiarachchi, R. H. Chandrasiri, Anil Chandralal, Sanjula Diwaratne, Sugath Maithri and Chinthaka Peiris