Getting creative with throwaway knick-knacks
By Duvindi Illankoon
View(s):
Shazla Hussain is showing us quite an intricate looking jewellery case in pink and white. We're surprised to learn that this has been made entirely using origami folds with no glue involved.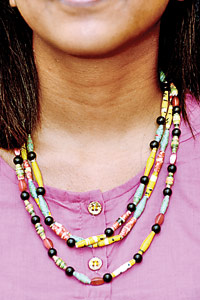 You'll find that little knick knacks like this jewellery box, and many more, are Craftshowk's signature.
Shazla, together with her brother Shameel, founded the business a few years ago. They were moving house and were dismayed to find a lot of junk lying around-"we didn't want to throw everything away," she recounts.
"When we moved to the new place we started playing around with discarded materials-we were so surprised by what you could make out of these things."
Soon they were running a little business. They started showing at the Good Market, which was when business really boomed, but withdrew after a while to deal with the number of orders coming in. Soon enough Shazla found herself doing a little workshop for a friend's son's birthday party.
"The kids loved it!" she says. "They really liked the idea of using material lying around at home to make playthings, and just the idea of being creative."
Now Shazla and Shameel also run workshops for children, with the primary aim of promoting eco-friendliness among their young students.
"The idea of finding something on the floor, and making something beautiful out of it appeals to both children and their parents," she says. "And it's probably the best way of teaching kids that you don't have to throw everything away-they can still have another use."
At these workshops, materials such as bottle lids, safety pins and pieces of wire are transformed to functional objects. "It's a very satisfying journey for us," says Shazla. "The kids love
Craftshowk conducts workshops for kids on using such material to make jewellery, cards and toys using techniques like origami.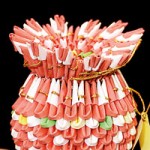 Their workshops can also involve storytelling sessions using toys, and facepainting and mehendi art for the children. Soon, they plan to introduce pottery craft and mug painting to these workshops. It too, especially the creative ones. We encourage that by rewarding those who do very well."
This Christmas the duo will host a seasonal workshop for kids in partnership with Just Kidding (Pvt) Ltd on December 20 from 10-11.30 am at the Just Kidding premises on De Fonseka Place, Colombo 04. Visit Craftshowk's Facebook page www.facebook.com/craftshowklk for more information.