Garton's Ark:Redefining luxury dining
View(s):

Colombo's only stand-alone floating restaurant, Garton's Ark celebrated its first anniversary recently with much pomp and pageantry.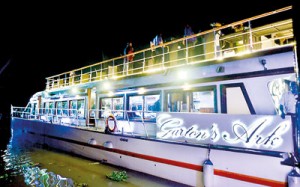 Located at Urban Wetland Park- Nawala, popularly known as 'Weli Park', Garton's Ark is a pontoon boat restaurant managed by Garton's Hotel Limited.
Designed and built by internationally-acclaimed boat builders in Sri Lanka, Garton's Ark was launched in November 2014. It is the latest addition to this popular park in the heart of Colombo, which provides people a friendly setting to relax in the city.
Garton's Ark is the epitome of luxury and comfort – the modernised double-decked vessel boasts luxurious interiors, cutting edge exteriors and eco-friendly designs.
The lower deck holds a spacious fully air conditioned restaurant which can accommodate up to 64 persons with bright and sophisticated interior designs, creating an elegant, welcoming environment for restaurant patrons.
With lovely panoramic views showcasing uninterrupted vistas of the lake and its surroundings, guests can enjoy their meals in style here.
The spacious open upper deck, which seats up to 30 guests, has a comfortable atmosphere with cocktail tables and lounge area and is perfect to enjoy a variety of soothing beverages and delectable snacks in the evening.
Passengers aboard Garton's Ark will be able to enjoy a river cruise that stretches over 5 km from Kirulapona to Nawala over the lotus-studded waterway of Diyawanna Oya, amidst birds and nature.
Dinner cruise is the most popular amongst guest, where the music, dance and variety entertainment come live onboard.