Enrique Iglesias LIVE in Sri Lanka
Sellout concert
View(s):
A large number of live Concert tickets of the popular Latino singing sensation Enrique Iglesias in Sri Lanka has sold to international inbound travellers drawn here solely as a result of this first-in-Sri Lanka destination promotion event, which is the only Asian stop on the artiste's global tour.
Grammy Award winning King of Latino Pop Enrique Iglesias will come alive in Colombo, Sri Lanka promoting his tenth and current album 'Sex and Love Tour' on 20th December 2015 at the CR and FC Grounds.
The 'Sex and Love Tour' is the twelfth concert tour by the Spanish recording artiste Enrique, which kicked off on Valentine's Day-14 February in 2014 in San Juan, Puerto Rico.
Enrique Iglesias, the heartthrob of many girls around the world, will be in Colombo to perform his maiden South Asian gig, the one before his final concert at Nokia Arena in Tel Aviv in Israel on 22nd December.
He will be in Israel on 16th December to perform his first leg of Tel Aviv Concert before reroute to Colombo. Most interesting of all, concert organisers have revealed that 20% of ticket sales happened within 24 hours of tickets going on sale via liveevents.lk, wow.lk and mydeal.lk.
This also follows Enrique's YouTube announcement of this upcoming concert 'going viral', and having resulted in unprecedented online visibility and word of mouth, within just a few hours.
Limiting its ticket sales to just 8,500, to ensure a high quality event, the Enrique Iglesias LIVE in Sri Lanka concert is being organised by Kumar Sangakkara's and Mahela Jayawardene's Live Events together with presenting sponsor Prime Residencies, E FM and Revd and Sri Lanka Tourism.
With the concert likely to soon sell out, this Sri Lankan-first will no doubt finally put to rest any concerns about whether the local entertainment industry is up to the task of hosting its first-ever A-list pop star, especially important since global A-listers like Enrique have the ability to reach hundreds of millions of fans, with his combined social media accounts alone tapping 70 million fans.
Said iconic Sri Lankan Radio Personality and Live Events CEO Shaq, 'Not only will Enrique's performance here be a dream come true for our countrymen, it is also our profound wish that this international level event will be the first step in a journey leading to our island paradise becoming a bona fide destination for high-profile, globally-relevant events.
We at Live Events are keen to nurture this nascent idea to its fruition.' 'The legendary Prime Lands Group, the leader in real estate sector in Sri Lanka together with its subsidiary Prime Residencies welcomes the legendary king of Latin pop Enrique Iglesias to experience the hospitality of Sri Lanka and its music loving people.
Prime Residencies is changing the landscape of luxury living with many affordable luxury living projects in key locations to suit the ever-changing lifestyles of the people.
We feel music is one of the most powerful ways to bring people together and we want our Sri Lankan people to experience a rare opportunity to enjoy great music' said B. Premalal, Chairman of the Prime Lands Group.
Importantly, Etisalat and Continental Insurance are also sponsors of the spectacular Enrique Iglesias LIVE in Sri Lanka concert.
39 year old Enrique Miguel Iglesias Preysler  is the son of legendary singer Julio Iglesias and Isabel Preysler, a Spanish journalist and Television host.
Having sold more than 137 million records worldwide to date, which also makes him one of the highest selling Latin artistes of all time, Enrique has additionally earned over 150 number-one hits across the length and breadth of the Billboard charts, as well as five Billboard Hot 100 top five singles, including two number-ones.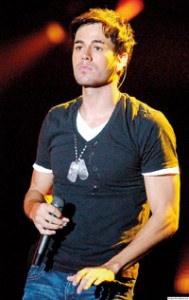 Enrique has many top hits to his credit from his ten albums. 'Hero', 'I Like It', 'Escape', 'Bailamos', 'Tired of Being Sorry', 'Do You Know? (The Ping Pong Song)', 'Be With You', 'Tonight', 'Somebody's Me' and 'Push' are some of his popular record breaking hits.
He has won about 200 awards from various ceremonies including 23 Billboard Music Awards (with 9 times nomination) and 36 Billboard Latin Music Awards (with 45 times nomination), as well as 7 American Music Awards (with 6 times nomination), 1Grammy (with 3 times nomination), 5 Latin Grammy (with 4 times nomination), 10World Music Awards (with 2 times nomination), 6 MTV awards, 19 Premios Lo NuestroAwards (with 24 times nomination) and 15 Premios Juventud Awards (with 21 times nomination).
Tickets are priced at Rs 35,000/- (VIP), 30,000/- (Platinum), 20,000/- (Gold) Rs 10,000/- (Silver- New catergory ) and Rs 5,000/- (Bronze)- Sold out.
For more details and for tickets log onto www.liveevents.lk
-Sanath W.