Embark on a journey with AIESEC
By Vinusha Paulraj
View(s):
Its aim is to develop leadership potential of youth through experiential learning, volunteer experiences and professional internships. AIESEC has been around for the past 20 years in Sri Lanka, but its presence has been somewhat of "a secret" according to Januka Wijesinghe of AIESEC's local chapter.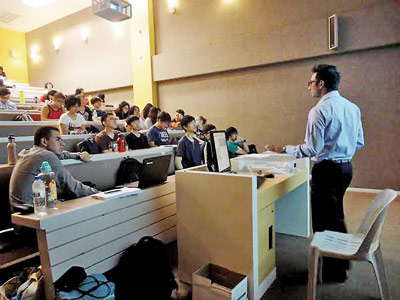 Facilitating global exchange programmes for new graduates and undergraduates, Sri Lanka, he tells us, was primarily considered a destination, something he's hoping to change.
A small crew of local undergrads kept projects running for international students to sign-up and engage in. It was only six years ago that students of Kelaniya, Moratuwa, Colombo and Jayawardenapura started packing-up their bags to explore newer shores.
Today AIESEC has a growing member base of 500 volunteers within these four universities, with the possible inclusion of students at Peradeniya and Jaffna in the next three years.
Attributing the increased interest to AIESEC's global success, Januka says the concept of foreign exchange has yet to take off domestically. "You don't have to be a part of AIESEC to go on exchange" Januka clarifies, in fact the process is as simple as registering online.
Since the concept is "fairly new" AIESEC Sri Lanka advises local students to get in touch with the team to help in this process.
Finding an exchange programme can be tricky. "Our function," he clarifies, is offering a platform for exchange, which is essentially presenting opportunities for students to go on exchange programmes.
Projects vary in cost and provide different allowances, "for instance, projects in this country come with free accommodation."
The 1200 college students who chose to volunteer here, have worked on projects for women's empowerment, youth empowerment and environmental conservation. "We try to keep them within the Western, Central or Southern provinces for cost purposes," Januka says.
With the promise of a wing in Jaffna opening-up soon, projects in the North are an addition AIESEC Sri Lanka is excitedly waiting to announce.
Generally projects would run from six-eight weeks and have to meet international standards. "We must remember," he says despite their community-centred nature "they're designed to develop leadership."
Sanadru Karunasiri who also promotes exchange experiences with AIESEC can attest to this. Deciding to go on exchange to Malaysia he says, "I wanted to experience what I am selling to others."
Going by his personal motto of never backing down from a difficult challenge, the 22-year-old Electrical Engineering student chose to tackle a project promoting "awareness on STDs and gender perspectives in relationships."
When he isn't poring over books, Sandaru would normally be rehearsing a speech. Placed in most oratory competitions he enters, his is a new name in the public-speaking arena, one that made an appearance after his brief six weeks of exchange.
"I was a shy kid," he declares, and the idea that public speaking might be enjoyable never crossed his mind. A microphone was shoved in his hand, and he was "wished good luck" when his AIESEC experience required him to address a gymnasium full of 400 high-schoolers.
The entire room was silent as he spoke, he recalls. "I'd like to think that AIESEC gave me public speaking," he says.
Januka's own exchange was less eventful, but nevertheless enlightening. "I grew-up in a family where you either became a doctor or engineer," he says and it was AIESEC that pointed him to his true passion.
On completion of his Computer Science and Mathematics degree, he joined UNESCO as an intern. His choice of location was also Malaysia, where his task was "to collect e-waste" and teach a class of under privileged students how to use the refurbished technology.
Working with "a girl from Japan" who took down notes at all team meetings and colour-coded "each of our contributions" and an undergraduate from the Netherlands whose punctuality was impeccable, he feels the entire experience was indescribable.
Opting for this experience mid-way through his degree, he feels it added perspective and direction in unveiling his true interests.
For those interested in embarking on a journey with AIESEC, both Sandaru and Januka invite you to scroll through their website-www.aiesec.lk, to get in touch and obtain more information.
The making of a global community
Established in 1948 after World War II, AIESEC was initially started to further the concept of a nation. Its mission was to "change the world, one individual at a time."
Spreading through to the Middle East in the 1950's by the 1960's the community had to go digital and connect via students with projects online. Today over 120 countries are a part of this global community.
AIESEC is the French name this community was given in 1948. Standing for promotion of Social Sciences and Economics, the range of projects offered currently spans well over these disciplines.
AIESEC is a non-governmental organization and has consultative status with the United Nations Economic and Social Council (ECOSOC) and is also affiliated to the UN DPI, is a member of ICMYO, and is recognized by UNESCO.