C & C back in action with a new line up 
View(s):

The popular band C &C has been rather quiet for sometime on the eye of media despite what some people may assume that they may have taken a break.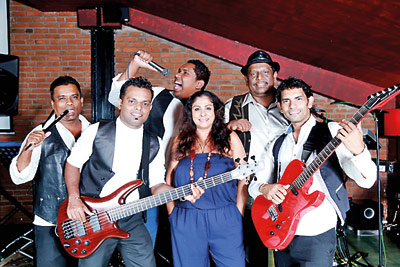 'But actually we have been really busy with our overseas tours for the last couple of months' said Chandani Hettiarachchi, the lead singer and the leader of the band C & C.
She and Chaminda have travelled to UK early this year in April for a concert that was organised by Sri Lankan Society over there for the Sinhalese and Tamil New year. After that they were in action at series of concerts and dances in various cities in the Middle East.
Chandani is also excited about her new line up of the band which has a vast capacity of talent and can cater to any kind of audience. Chaminda, husband of Chandani, who is the keyboardist and the leader of the band, is now surrounded by group of young talented musicians.
The C & C now comprises Buddhi on bass and Maal on drums and to add more colour to them is the talented vocalist Kelum and also on guitar is Marlon the former guitarist of band Misty.
This amazing set of musicians just kicks started playing at one of the most beautiful beach bars in town- the 'Shore by O' every Thursday. And also they perform at Havelocks every other Friday and chill out Jazzy Wednesdays at Kings Bar of the Kingsbury Hotel.
Chandani says they have been playing at CR n FC for the past two years which is another great sports bar to unwind. They perform there once a month at Sunday Brunch.