Amaranath's strums resound in India
By Susitha R. Fernando
View(s):
Renowned Sri Lankan classical and flamenco guitarist Amaranath Ranatunga will be performing at the 2015 Indian Guitar Federation Classical Guitar Festival starting this week.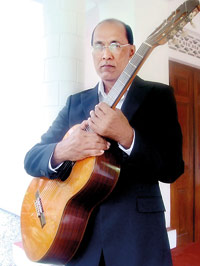 On the invitation of the Executive Committee of the Indian Guitar Federation, Amaranath will be performing at Chennai and Bangalore Concerts on December 14 and 16.
The concerts spanning for over four days will see the best classical guitar acts from across Asia. Amaranath will be performing along with some of the leading classical guitarists including Simon Cheong (Malaysia), Leon Koudelak (Czech Republic/Thailand), Thu Le (Vietnam), Kevin Loh (Singapore), Samuel Mok (Hong Kong), Nutavut Ratnakarn (Thailand), Madhavan
Somanathan (India), Cuerdas Duo (India and Philippines), Ekachai Jearakul (Thailand), Shyamant Behal (India), Matt Bacon (USA/India), "Monching" Carpio (Philippines) and Masao Tanibe (Japan).
Amaranath Ranatunga had the rare privilege of studying classical guitar under American classical guitarist Mervyn Sanders and Indrani Silva in 1964 and Flamenco Guitar from the Mexican flamenco guitarist, Fredric Bruno in 1977.
He is the first Sri Lankan to lecture the Classical and Flamenco Guitar in an university- University of the visual Performing Arts and there he developed the syllabus of classical and flamenco guitar for the four year Bachelor of Performing Arts degree. Amaranath has shared his knowledge with several books he had written and compact CDs that he had released.