A refreshing movie, a tribute to teachers
By Susitha R. Fernando
Ho Gaanaa Pokuna-The Singing Pond
View(s):
Award winning theatre director Indika Ferdinando's debut film 'Ho Gaanaa Pokuna' (The Singing Pond), a story depicting how little dreams can create revolutions is now being screened at Savoy cinema Colombo and other EAP theatres around the country.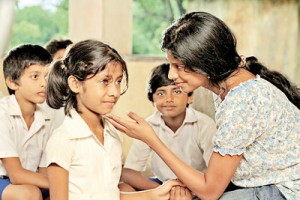 Starring a host of children in the main cast, 'Ho Gaanaa Pokuna' is a children's film that can be enjoyed by all age groups.
The film stars Anasuya Subasinghe, Lucian Bulathsinhala, Jayalath Manoratne, Dayasewa Edirisinghe, Jayani Senanayake, Hyacinth Wijeratne, Sanette Dikkumnura, Geetha Kanthi Jayakody, Wasantha Muhandiram, Ama Wijesekera, D. B. Gangodathenna, Nadeeka Somathilaka, Nayana Hettiarachchi and many others.
Set in a remote village the film revolves around a group of little children, their school, teachers and the village. One morning, a piano is delivered to the primary school of a remote little village in Sri Lanka.
The children wonder what the big black box might be, while their unimpressionable headmaster locks it away, warning that there's a ferocious dragon inside, that eats mischievous children.
No longer able to contain his curiosity, one boy steals the key to the room and the children discover that the headmaster had lied to them. But the boy is caught and punished for his disobedience.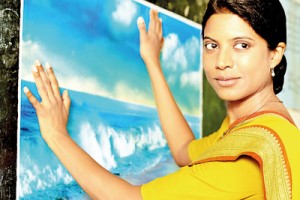 A few days later, a new teacher arrives at the school. Thanks to her, the children discover that the mysterious black box makes music. They also learn that attempting to satisfy their curiosity is not a bad habit, and that their curiosity is what shapes their dreams.
One day, in school, a little girl who is blind by birth, shares her unseen dream with her friends. It gradually becomes the unseen dream, not only in the eyes of the little ones, but also in the eyes of the entire village.
This single dream, shaped by curiosity, gives rise to a little revolution, stirring up the quiet village as it has never experienced before.
Behind the screen, make up is by Priyantha Dissanayake, sound consultant Lionel Gunaratne, sound designing Sasika Ruwan Marasinghe, production manager Palitha Thennakoon, art director-Manjula Ayagama, music Dinesh-Subasinghe, lyrics Kusumsiri Liyanaarachchi and Indika Ferdinando, editing-Thissa Surendra, executive producerAnanda Liyanaarachchi and Swarna Mallawaarachcih, Assistant director-Daminda D. Madawala, director of photography Channa Deshapriya, co-producer Sunil T. Fernando.
On behalf of Next Frame Studio, the film is co-produced by Kusumsiri Liyanaarachchi, Yashodhara Sarachchandra, Dayananda Liyanaarachchige, Shyama Athukorala, Bimal Fernando, Nirosha Fernando and Geetha Muthumala and is written and directed by Indika Ferdinando.