Kids Essays
View(s):

My friend's birthday party

My friend's name is Saheli. She celebrated her birthday party in McDonald's.
In McDonald's there was a big playground.
One aunty put us a song to dance.
She painted a flower on my hand. We played many games.
I had fun at the birthday party.

Ranali Kodikara (7years)
Bishop's College
---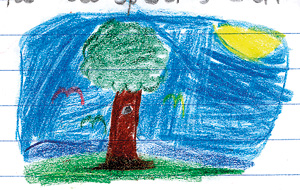 How we can save the environment
Nowadays our environment is at risk. There is smoke in the air, toxic waste in the soil, dirt in the water, etc, but what can we do to save the environment?
Let's use cars powered by electricity, solar power or hydrogen and we could use things like the water wheel for preventing animals from damaging crops instead of putting insecticide in the soil.We could preserve trees without chopping them down. Let's not destroy the animals' homes. That way our environment could become greener, and all species can live longer.
Kalana Amarasekara (10 years)
Royal College
---
The elephant
The elephant is a big animal. The elephant is black in colour. It has four legs. It has a long trunk. It uses its trunk to drink water. It likes to eat bamboo shoots and green leaves. There are many elephants in the Yala forest.
Aamina Gaffoor (6 years)
Royal Institute Girls' School
---
My school
My school is Sangamitta Balika Vidyalaya. It is in Colombo. My school's theme colour is blue. My school has classes till Grade Five.
My school has lots of trees. My school has a big playground.
My school has a lot of indoor activities. It has a good library with many valuable books. My school is famous for dancing.
I love my school.
Shamini Anjali
(9 years)
Sri Sangamitta B. V.
---
Plants and us
Plants are very important to us because they give us food, they give us shelter and oxygen. When there are no plants in our earth we can't live because when we want to live we want shelter, food and oxygen. When we want to build a house we need wood. There are so many forests in Sri Lanka but some people are cutting down trees to earn money.
Those people do not care about the value of trees. This is a main reason for environment pollution. We mustn't cut down trees, we must plant them. Tamarind, Kohomba, Burutha etc., are very valuable trees. These are essential for humans and animals so we must protect them.
Nuwan Ranasingha (Grade 10)
St. Michael's College, Homagama
---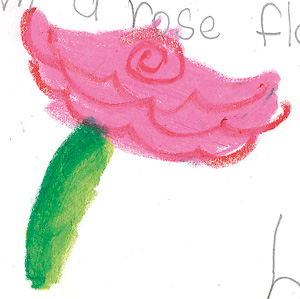 A rose flower talks
I am a very beautiful flower. I am pink in colour.
I wake when the sunrises in the morning.
I have soft petals. I sleep when the moon rises up.
I live in a garden. I am a rose flower.
Dinethmi Gunawardena (Grade 3)
Musaeus College
---
My pet
My pet is a dog.
My pet's name is Bob.
It is brown in colour. It eats bones and fish. It plays with me.
I love my pet.
Aabeda
(6 years )
Ilma Int. Girls School
---
Children's Day celebration in schools
Children's Day fell on October 1, 2015. Many schools celebrated this day in various ways.
Some schools organized a fun day for the school children with bouncy castles, magicians, haunted houses and rides. Other schools made special handcrafts and gave the children little gifts.
There were also schools that had special stage programmes to commemorate the day.
My school gave each child a free
ice-cream and we made special handcrafts.
Ryaan Bishri (9 years)
Ilma Int. Girls' School
---
My country
My country is Sri Lanka.
It is an island in the Indian Ocean.
It is known as 'The Pearl of the Indian Ocean'. Sri Lankans are friendly,
helpful and hospitable. Sri Lanka exports tea, rubber and coconut.
Sri Jayawardenapura is the capital
of Sri Lanka.
My country is popular all over the world. There are mountains, waterfalls, rivers, jungles and sanctuaries in
Sri Lanka. Mahaweli is the longest
river and Piduruthalagala is the highest mountain in Sri Lanka. There are many sacred places some of them are Kandy, Sri Pada, Anuradhapura and Polonnaruwa. I love my country.
Harsha Lakshitha
(11 years)
Ananda College
---
My first hiking experience
We had the Scout enrollment for the Scout troop of Royal International School on October 13, 2015. Afterwards we had hike practices. We had a practical test and a theory test for the selecting of the team of our school troop to go to the hike. I was surprised to hear my name in selected team for the hike.
We got an opportunity to participate in the Sampath Ranawaka Memorial Challenge Trophy 2015 organised by Maliyadewa College Kurunegala. On the following day I woke up and I rushed to Maliyadewa College. The members of our Scout troop and our Scout master were there. There were Scouts as well as Girl Guides islandwide. There were about 80 schools participating in the hike. We were registered by our Scout master. We reached the Kadulawa mountain range by buses. It was situated between Ibbagamuwa and Madagalla.
In ancient times the mountain range was used by kings for practicing for his soldiers. It is beautiful and filled with harmless animals. There were plants which are used for medicine. There are plants in this mountain which do not grow anywhere except Kadulawa mountain range.
During the hiking we were asked questions in each check point and in activity points, we were asked to do it. I got the opportunity to meet lots of friends all over the country at this event.We participated in the closing ceremony of Sampath Ranawaka Memorial Challenge Trophy 2015. It was an unforgettable day in my life and a good chance to collect experiences.
Vojitha Herat (Grade 6)
Royal Int. School, Kurunegala
---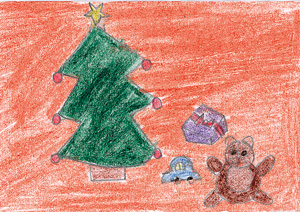 Christmas
Christmas is a joyful festival which is celebrated by Christians. It is celebrated on December 25 every year. Christians celebrate Christmas to remember the birth of
Jesus Christ.
Before the festival arrives, they decorate their houses, shops and churches. They also make the special Christmas cake and decorate the Christmas tree. On this day they wear new clothes and go to the church. They also exchange gifts and sweets on this day. It is an enjoyable day for all Christians.
Maimouna Begum, (Grade 4)
Kandy Royal Int. School
---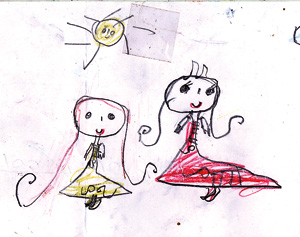 My sister
My sister likes watermelon.
She likes drawing. She likes to cuddle my mom. My sister likes to dance with me. Her name is Vershetha.
Amritiha (5 years)
Eastern Int. College
---
My principal
My principal's name is
Rev. Sister Beeta Tissera. She lives in Holy Family Convent. She is short. She is very pious. She goes to church every morning. She is always in a happy mood. She likes discipline very much. She is good. She is very kind and helpful.
I love my principal very much.
Nithya Sanuji (Grade 4)
Holy Family B.V., Wennappuwa
---
My hobby
There are many hobbies that I like. They are collecting stamps, reading storybooks, writing poems, collecting feathers etc. My favourite hobby is reading story books. It is an important hobby for my life. From reading I get pleasure. I improve my knowledge. I have read many books. They are very interesting. It helps our education. I get maximum advantage from time. I have read about 50 books up to now. Reading books is a very healthy activity for my mind. Also I am a member of the public library.
Lochana Ganegoda (Grade 7)
Ananda Sastralaya, Matugama
---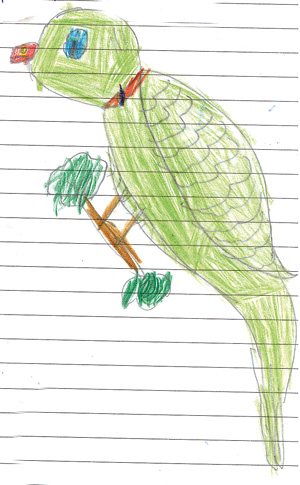 I am a bird
I am a bird.
My name is parrot.
I have wings,
I have a beak.
I have a back.
I have a tail. I have claws. I have a throat. I have two legs. I have two eyes.
I like to talk with my friends.
I love my friends and myself.
Sanduni (Grade 4)
Royal Int. College, Kegalle
---
Dogs
Dogs have been companions of human beings for thousands of years. Even today, they run with us, play with us and protect our homes. Scientists have found that the true ancestors of present dogs are wolves. Like wolves, dogs too like to live in groups called packs. The leader is called the alpha.
Dogs have split into many species. They are German Shepherd, Golden Retriever, Spaniel, Greyhound, Collie etc. Some are called 'mixed breeds.' Dogs are family pets as well as used for working, such as for military purposes, for herding animals and to hunt animals. Sometimes when they get angry they bite or attack someone.
We must train dogs and show affection to them. If we love them they pay back double! They lick us or wag their tail when they're happy. They like to play a lot of games like fetch. The fastest dog is the Greyhound. The fastest record is 45 miles per hour.
Another breed is the German Shepherd which has its origin in Germany in the  20th century. This brave and intelligent dog is used as a police dog too. Every dog can bark except the 'Basenji.' It sounds a bit like the yodel.
My favourite animal is the dog since it's friendly, playful and fantastic. It's really hard to imagine a world without dogs!
Hemalsha Aththalapitiya (Grade 7)
Dharmaraja College, Kandy