Chengdu Giant Panda Research & Breeding Base
By Hiranthi Fernando
View(s):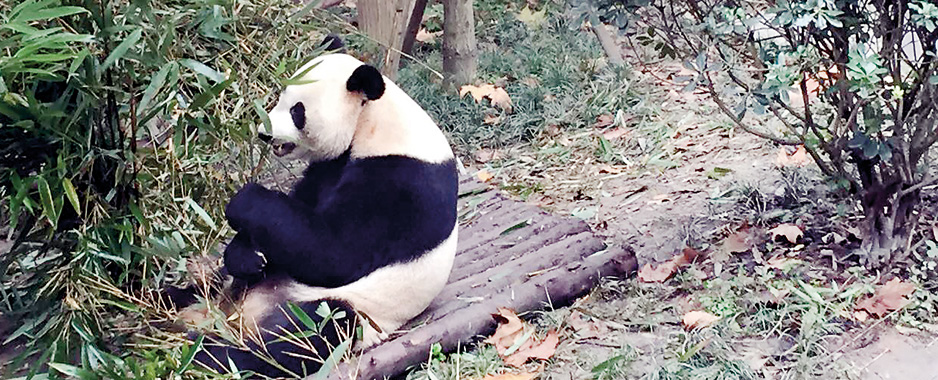 Giant Pandas live in remote bamboo forests in the high mountains. The loveable, black and white Giant Pandas are an important Chinese national treasure. These animals are only found in Sichuan, Shaanxi and Gansu provinces of China.
Located about 10 km from Chengdu, the Chengdu Research Base of Giant Panda Breeding, has recreated the natural habitat of the pandas so that they have the best environment for rearing and breeding. This Base is indeed a most interesting place to visit and see the Giant Pandas, in their natural surroundings, feasting on bamboo leaves, frolicking or resting under the trees.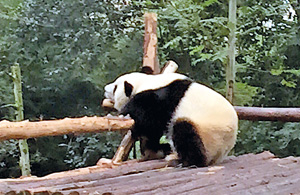 The Panda cubs in the Nursery are also a treat to behold. They were fast asleep when we visited them. Curled up in a large cot, the cute cuddly pandas looked loveable and endearing. The staff at the nursery lovingly care for the little baby pandas. However, the adult pandas can be fierce, the wardens at the base told us.
The natural habitat of the Giant Pandas has been gradually destroyed and so the Chengdu Base provides a sanctuary for these animals that are endangered as a species. In total there are fewer than 2000 Giant Pandas in the wild. Sichuan Province is home to about 70% of these pandas. Set in an area of 92 acres, Giant Pandas, smaller red pandas, white and black swans, cranes, storks and peacocks as well as several other species of rare animals are bred and nurtured at the base throughout the year.
Nearly 400 kinds of trees have been cultivated at the base in addition to many species of bamboo that Giant Pandas love to feast on. Facilities at the base include a fodder room, sleeping quarters and medical station, in addition to a museum, research laboratories and training centre. The Panda Story Cinema presents entertaining and educational films on many topics, such as birth of Giant Panda cubs, panda breeding in captivity and the conservation of pandas. All these facilities are aimed at creating awareness of the need to protect these endangered animals and their environment.