Sri Lanka's deficit of justice cannot be corrected by laws alone
View(s):

Euphoria in regard to the Cabinet decision this week that Sri Lanka will sign the International Convention on Enforced Disappearances must be tempered by several factors.  First, a sober appraisal makes it evident that though we have ratified a bewildering array of such treaties, a huge gap exists between international commitments and practical realities.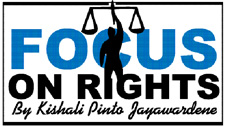 Gap between theory and reality
Unfortunately this is so even when we have enacted domestic legislation giving effect to international obligations. A case in point is the enabling law in regard to the United Nations Convention Against Torture (UNCAT). An excellent law in theory, the 1994 CAT Act has become a miserable failure in practical terms. In the first decade after its enactment, the High Court handed down just three convictions of state officers. The convictions record since then has continued to be unimpressive.
Even those few convictions were laboured and confined to the most egregious violations. Judges have strained to let alleged torture perpetrators off the hook. Prosecutors have refrained from indicting Officers in Charge of Police Stations (OICs) who are culpably inactive when torture is committed under their watch. Some High Court judges have reprimanded the Department of the Attorney General for this failure.
The other example of comparable domestic legislation is the International Covenant on Civil and Political Rights (ICCPR) Act. This farcically titled law omits crucial ICCPR rights including the right to life. Even the limited rights brought in are of no effect. Its prohibition on advocating religious hatred has not been effectively used in prosecutions. This Government is now proposing new laws on hate speech. But relevant legal provision already exists. Laws, more laws and yet more laws do not correct Sri Lanka's deficit of justice. Dysfunctional investigative, prosecutorial and judicial processes make such efforts a mockery.
Obstacles to effective compliance
In other respects, the ratification of the Convention on Enforced Disappearances (CED) will have strength only if Sri Lankans can file petitions before the Committee which is central to that treaty's monitoring scheme. As of now, 20 States have declared their willingness to abide by this procedure under Article 31. This is encouraging given that the CED is a new Convention. Yet there are significant obstacles to effective compliance where Sri Lanka is concerned.
In the Singarasa Case (2006) a Divisional Bench of the Supreme Court decided that the accession by the President to a similar individual complaints procedure under the ICCPR was unconstitutional. It was opined that the ICCPR Committee exercised judicial power when it considered such complaints which meant that this procedure must be approved by the Parliament as well as by the People at a referendum. The decision was heavily critiqued given that, as a matter of basic international law, the Committee issued Communications of Views with no binding judicial power within a particular State.
Indeed, the Foreign Affairs Minister's formal announcement this week that Sri Lanka would first sign the Convention, pass internal enabling legislation after which it would ratify the treaty raised curious eyebrows. Generally, a State signed and ratified treaties, bringing in enabling legislation later. This was the process followed in regard to UNCAT and ICCPR.
A supremely confused Republic
But later reflection revealed the reason for this change, reflecting the supremely confused basis on which we now function. In the Singarasa Case, the Court stated that domestic enabling legislation is necessary before a 'remedy' is provided for, when an international instrument is acceded to. This flowed from its view that the individual complaints procedure attracts the purported conferment of judicial power as well as legislative power. Ratification of such a procedure was therefore beyond the constitutional powers given to the President. Parliament must also put its stamp on the same. Certainly this reasoning may have been acceptable if a foreign judicial body had been given binding powers inside Sri Lanka. But the ICCPR Committee consisting of reputed jurists, merely issued recommendations which was entirely up to the State to accept or not.
Regardless, the Singarasa Case remains precedent until it is reviewed by a Full Bench of the Court. Its effect goes beyond one particular instance and impacts on Sri Lanka's treaty obligations in general. In a 2008 report to the United Nations General Assembly, (then) Special Rapportuer on Torture, law professor Manfred Novak acknowledged that the Singarasa Case was an obstacle to State compliance to the individual complaints procedure under Article 22 of the UNCAT which the government has not accepted.
As an aside, it will be considerably amusing to see how the Attorney General articulates his stand in the event of a possible review of the Singarasa precedent. In the initial hearing of the matter, the very same state law officer, now strenuously arguing the Government's 'good governance' brief in the Supreme Court, ridiculed international law procedures. This was part of a foolhardy confrontational stand taken to its zenith by the Rajapaksa Presidency. A more strategic approach would have certainly made a full-on United Nations Human Rights Council inquiry which we currently face, far more difficult.
Democratization of governance
At that time, the Government negatively reacted against Communications of the ICCPR Committee which were unexceptionable. For example, the State was requested to ensure the impartiality of the Attorney General. In another instance, the enactment of a Contempt of Court law was urged. Ironically enough, these are currently matters of public interest in regard to which citizens have become zealously active. The ICCPR Committee also recommended that the Judicial Service Commission (JSC) be transparent and accountable in its functioning.
It says much that these reforms are still pending. Where the JSC is concerned, recent transfers of judicial officers midway through high profile cases of corruption and alleged murder, including that of ruggerite Wasim Thajudeen, has led to public concern. The government spokesman had reportedly assured that he would raise this matter at the next Cabinet meeting. But questions of judicial transparency are best tackled by structural reform rather than by ad hoc political interventions. In any event, announcements of ratifications to international treaties must be taken with the proverbial pinch of salt. Unless and until concrete changes take place, laws in theory mean little. We should not underestimate the dire challenges that lie before us.