State rescue of failed companies is weak form of insurance
By Jayampathy Jayasinghe
View(s):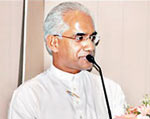 Vagaries in the weather patterns in Sri Lanka drastically affect rural farmers who seek crop insurance protection against losses, says Deputy Minister of Public Enterprise Development Eran Wickramaratne.He was addressing the inaugural day of the International Cooperative and Mutual Insurance Federation symposium for Amana Takaful in Colombo. He said one longstanding major problem in the insurance sector has been insuring against risks that affect rural ommunities such as agricultural crop insurance which has become a difficult matter .
He said insuring farmers against fluctuations in weather conditions or bad harvests has become a serious issue but very little of it is seen in Sri Lanka. Citing another example he said despite discussing labour market flexibility, "we still don't have insurance for the unemployment and these are some of the risks that people face which ought to be insured against". However the insurance sector will continue to be a fundamental part of Sri Lanka's economic success, he added.The deputy minister,
while commending the initiatives of the International Cooperative Mutual Insurance Federation for its efforts to integrate Sri Lanka into its partnership programme to reach out to five million underserved households in five countries over the next five years, asserted that the economic potential of the country has to be unlocked. "I must stress that while the government is here to serve the people, it realistically can't rescue a firm or industry at every turn. In fact, a government rescue is a weak form of insurance.
Citing an example in the agricultural sector, he said by throwing subsidies at farmers and then by taking it back and increasing the prices and taxes will farmers become stronger than they were before, he asked. He said it is a substandard form of providing insurance cover. However, if proper insurance schemes are technically and well devised and implemented, they could provide the same functions as government subsidies but in a much more powerful form that creates more confidence, he said.
The deputy minister was also of the opinion that the county's export finance sector should be given due recognition since it lacked sufficient insurance where the sector was concerned. Referring to the budget proposal with regard to the setting up of an Export Import Bank (EXIM), he said the establishment of such a corporate institution was not solely sufficient enough to drive the country's exports but the country as a whole should pay more attention to the instruments which facilitate exports, since insurance plays a vital role in this regard.
Meanwhile Sri Lanka was one amongst the five countries that was selected for the development of inclusive mutual insurance for the next five years under the ICMIF's AOA 5-5-5 Inclusive Mutual Insurance initiative. The other countries include the Philippines, Kenya, India and one Latin American nation which was selected based on their performance and potential as emerging markets in the insurance industry.