Aitken Spence Travels hosts Top Travel agents from Egypt
View(s):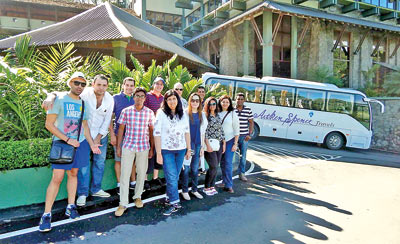 Top travel agents from Egypt were hosted in Sri Lanka by Aitken Spence Travels for a five-day educational tour in collaboration with the Sri Lankan Embassy in Cairo and airline partner Emirates Airlines recently. The objective of the familiarization visit was to give them a first-hand experience of the product on offer and ensure that all the agents are educated well in selling Sri Lanka as a leisure destination in Egypt, a media release issued by the company said.
Commenting about the destination and what they had experienced, the agents were full of praise at the natural beauty Sri Lanka has to offer. The varied attractions of lush green natural vegetation, misty cool green hill country, the abundant wild life and of course the sun kissed golden sandy beaches were greatly appreciated by the group. The group was of the opinion that Sri Lanka has a better product to offer than regional locations such as Bangkok, Malaysia and Singapore.
We will work closely with the travel agencies in Egypt to popularize Sri Lanka as a preferred leisure destination for Egyptian travelers. Sri Lanka being one of the safest destinations in the world along with its tropical attractions and easy access to visas with traditional Sri Lankan hospitality will be an ideal getaway to the Egyptian traveler, they said