Today's West Indian cricketers don't give everything to their country – Sir Garfield Sobers
By S.R. Pathiravithana
View(s):
It's always a great feeling to have a series against the West Indies says former Sri Lanka captain Michael Tissera.
Tissera one of the greatest national cricketers of the pre-Test era was engaged in a three match series against the Windies before becoming a part of the first Sri Lanka World Cup outfit in 1979.
Tissera explained; "Our first West Indies experience came in 1961 when five players from the Caribbean played a match here. Our team was called the Mirror XI. The second match was played in 1967 and in this game I captained the Ceylon team while Garfield Sobers captained the West Indian side.
"We scored 400 runs, thanks to two good knocks by tailenders P.I. Peiris and Neil Chanmugam who put a hundred odd partnership for the last wicket to move from 290 for 9. "West Indians scored over five hundred runs with Sobers, Clive Lloyd and Basil Butcher making centuries. I think they made 540 for 6.
"Once again the Lankans batted well in the second inning. We made 160 for 3 with Lionel Fernando making 70 odd runs.
"The next time we met each other was in 1974. Sobers by this time had almost stopped playing the game and it was Lloyd who captained the team. We played a few games before the World Cup matches. We played a three-day match at the CCC and a four-day game at the P. Sara Oval. We did well in that game I remember, when the West Indians were struggling at 90 for 8. Lloyd was injured, but he had to pad-up and bat.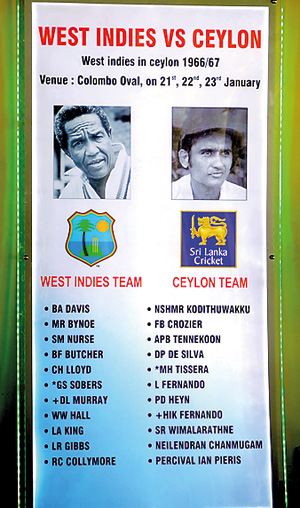 "However I always enjoyed playing with the West Indians, they are always open and friendly," said Tissera.
Then when we played against them at the World Cup, it was a disaster. It was a green top, they won the toss and they put us into bat. We got 83 or something and the match was over.
When asked why it took the West Indies over ten years to play their first Test match against Sri Lanka Tissera said that he did not know much about cricket politics, but, may be West Indies – another team which was poor, were keener in playing the richer counterparts as they had one of the best teams at that time.
Reminiscing on the changes that have taken place in Cricket in Ceylon – as it was then known, the mercurial Sir Garfield Sobers said, they always had good cricketers in the fold, but what he remembers the most is when he visited England when Sri Lanka had to get the nod for full Test status. At that time they had cricketers in the calibre of Michael Tissera who had the natural ability in the art of batting.
Sobers says, in the latter stages the game has not gone according to plan.  "Whenever I played for the West Indies teams, it was such a pleasure and joy to be able to do what I did. Records meant nothing, the team was important.
"I don't think we have that kind of player today. We might have them in different countries; we might have them in Sri Lanka, we might have them in England, in Australia, but I don't think we have that kind of players in the West Indies any more who are quite prepared to play and to give it everything they have got to their country.
"And that hurts and until we can get people who are willing to play for the West Indies in the right way, I think that we're going to be struggling for a long time. Other countries are going to come and surpass us."
Sobers has been also critical of some of the current crop for giving priority to lucrative Twenty20 competitions – such as the Indian Premier League – over international commitments.