Cherimoya: tastiness goes hand in hand with goodness
By Nirmala M. Pieris
Continuing our series on healthy foods found locally
View(s):
Mark Twain once referred to the cherimoya as the "most delicious fruit known to man." The fruit is creamy, fleshy and soft, sweet, with a sherbet-like texture, which gives it its secondary name, custard apple (Sinhala Seeni anoda). The cherimoya, also spelled chirimoya, is the fruit of the species Annona cherimola belonging to the family Annonaceae, in the genus of Annona. This exotic tropical fruit is native to the Andes Mountain region, but grows in similar, moderate climates throughout the world. Today, cherimoya is grown throughout South Asia, Central and South America and in California and Portugal.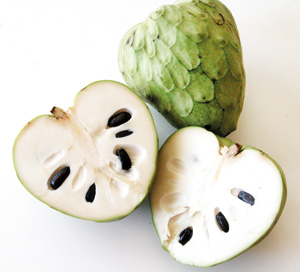 The English idiom "don't judge a book by its cover' is aptly applicable to the cherimoya. Visually, looking like a cross between an artichoke and a strawberry, this prehistoric-looking tropical fruit has thick, scaly green skin and looks more like a Jurassic Park prop than a yummy dessert choice. Yet it's slightly tart flesh is a symphony of sweetness with the flavour resembling a blend of pineapple, banana, papaya and mango. This odd flavour combination makes cherimoya taste more like a custard fruit pudding or even bubblegum.
When ripe the fruit turns pale green to light brown and emanates a sweet, fragrant aroma that can be appreciated from a distance. The fruit can be chilled and eaten with a spoon, which has earned it another nickname, the ice cream fruit. Once ripe, it quickly deteriorates at room temperature. As in bananas, whole cherimoya cannot be stored in the refrigerator for a long period as they sustain chilling injury. However, juiced or pureed, the fruit may be kept in the freezer for several weeks.
Cherimoya can also be cut into cubes, pureed, and used as a mousse or pie filling. Some add a few drops of lime or lemon juice and dilute with ice water for a refreshing beverage. The flesh has an abundance of black seeds and when deseeded, can be added to fruit salads or used in sherbets or smoothies, and also fermented to produce an alcoholic beverage. Pieces can be dipped in lemon or orange juice to prevent darkening.
So why isn't cherimoya already on the menu at every restaurant and smoothie shop? Chalk that up to the fruit's formidable reptilian exterior appearance, fiddly interior and high cost. Still, for the adventurous fruit eater who refuses to let mere aesthetics guide his or her diet, the cherimoya might be a wonderful new ingredient for honing your cooking skills and exhibiting your culinary diversity.
Nutritional value
Cherimoya contains an impressive list of nutrients, vitamins, minerals and antioxidants and is low in cholesterol and sodium. The fruit has calories equivalent to that of mangoes with 100 g of fresh fruit pulp providing about 75 calories. The fruit contains no saturated fats or cholesterol. One medium cherimoya provides a whopping 5 g of dietary fibre, amounting to about 90% of the recommended amount. Fibre is essential for keeping the digestive tract healthy and lowering the blood sugar levels. It also adds bulk to the stool, relieving constipation and helps lower absorption of cholesterol in the gut. The fibre also helps protect the mucosa of the colon from exposure to toxic substances by binding with cancer-causing chemicals. However, the fruits should be consumed in moderation because they contain fructose, which may be harmful to your health in excessive amounts.
Vitamin C
A cup of cherimoya provides about 20 mg of vitamin C, almost 33% of the daily recommended value. Vitamin C in cherimoya helps in healing of wounds and formation of cartilage, tendons and ligaments. Consumption of one cup of cherimoya daily develops resistance against infectious agents.
B complex Vitamins
The fruit is a good source of B-complex vitamins, especially vitamin B6 (pyridoxine). 100 g fresh fruit provides about 20% of the daily-recommended levels. The body needs vitamin B6 for more than 100 enzyme reactions involved in metabolism. Pyridoxine also regulates GABA (Gamma Amino Butyric Acid) a neuro chemical in the brain sometimes known as "the euphoric amino acid" because of its calming and headache pain-easing effects and control of fear and anxiety experienced when neurons are overexcited. Vitamin B6 also protects from Parkinson's disease.
Polyphenolic antioxidants
Cherimoya contains several poly-phenolic antioxidants. Among them, the most prominent are the acetogenins that are a class of polyketide natural products found in plants of the family Annonaceae. Acetogenin compounds such as asimicin, bullatacinare etc are powerful cytotoxins and have been found to have anti-cancer, anti-malarial, and anti-helminthes properties.
Sodium Potassium Ratio and Minerals
The fruit has a well balanced sodium-potassium ratio with low levels of sodium and high potassium levels. A good potassium level in the body helps control heart rate and blood pressure, and thus, counters bad influences of sodium. It also contains more minerals weight per weight than many common fruits like apples, being rich in copper, magnesium, iron and manganese.
Skin benefits
The high content of vitamin C in the fruit helps in the formation of collagen, a protein, which provides elasticity to the skin. Vitamin C also helps to combat free radicals in the body, providing healthy and flawless skin. Regular consumption of cherimoya can help to delay the signs of ageing like fine lines, blemishes and wrinkles. It also helps to reverse the pigmentation caused due to free radicals.
Hair benefits
Cherimoya benefits the hair in numerous ways. It contains hair-friendly nutrients like magnesium, zinc iron and vitamin C, which promote hair growth. Unripe cherimoya fruit powder mixed with water and applied on the scalp, one hour before shampooing helps to get rid of hair lice and nits. Cherimoya seed oil is ideal for wavy and coarse hair. It hydrates the scalp to make the hair lustrous, shiny and manageable. Cherimoya also provides the beneficial copper enzymes, which helps to maintain the colour of the hair, preventing pre-mature hair graying.