You see the mundane, but there's a difference
By Purnima Pilapitiya
Dillai Joseph Rodrigo who holds her first solo exhibition talks of her artistic influences
View(s):
Dillai Joseph Rodrigo's art is an interesting paradox. Dark brown eyes on dark, tanned faces stare back at the viewer through the canvases.
Her subjects; the Muslim hat seller, the young girl taking a picture on her phone from the bus are everyday faces and figures.
Upon closer inspection, the deep lines, wrinkles, guarded smiles and stares unravel more than just a simple portrait.
Taking place next week, her first solo exhibition "People, Puddles and Paradise" invites Colombo's art connoisseurs to a deeper look at the everyday mundane.
Dillai's love for art goes back to her childhood. Growing up in the Joseph household induced an appreciation for music and the arts. "The genes come from my grandfather," she recalls, remembering his work which was strewn around the house.
Although he was not professionally trained, his passion for painting was picked up by young Dillai who went on to study the subject for her O/L's. "I didn't pursue art," says Dillai , who works in advertising.
Although she spent her teen years involved with music and art, Dillai would be 19 when she started formal training in the subject under the tutelage of Nadine David.
"It's never too late to start," she told herself. Though she had been a part of two exhibitions in her twenties, "I decided not to procrastinate any further" and thus began work for her first solo exhibition earlier this year.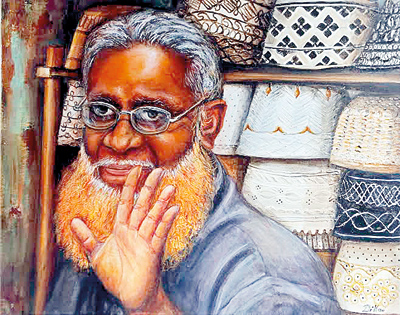 A student of David Paynter, Nadine was greatly influenced by her teacher's classical style and interest in the human form, which in turn had a significant influence on Dillai's work as well.
This is why her exhibition includes portraits, nudes and as the title suggests- puddles.
"It's not always about a pretty picture," she explains while showing us the acrylic portraits and ordinary puddles and spills that have served as her inspiration.
Influenced by classical masters such as Da Vinci and Michelangelo, Dillai too uses a classical technique for painting. But her work remains quintessentially Sri Lankan, inspired by the greats like Paynter and Lionel Wendt.
"He (Lionel Wendt) celebrated the Sri Lankan body," she says and this motivated her to do more Sri Lankan influenced work.
Among the collection's standout pieces is a set of nudes- inspired by the Sri Lankan frame and body.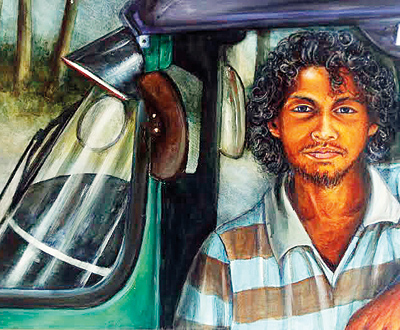 "People, Puddles and Paradise" an exhibition, will be held on October 23rd, 24th, 25th at the Lionel
Wendt from 8.30 a.m. to 8.30 p.m.