Lanka loses over Rs.5 b. yearly due to fish poaching: Think tank
View(s):

Research on the economic and livelihood losses caused by Indian fishermen poaching in Lankan waters estimated that the country is losing Rs 5,293 million ($41 million) annually contributing to a drastic impact on the national economy.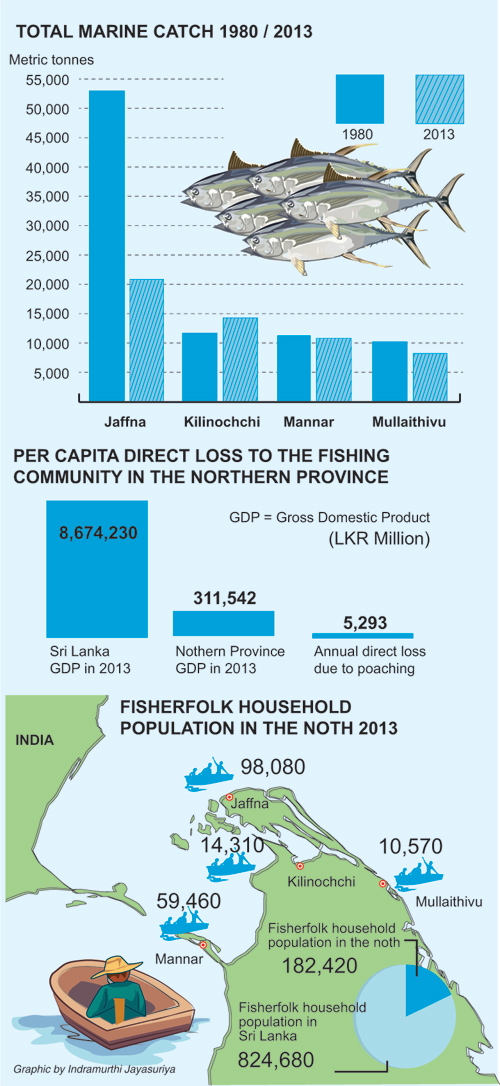 Point Pedro Institute of Development, a Northern based economic think tank released a research paper on the direct monetary losses incurred by the fishing communities in the Northern Province, indirect losses incurred by the entire supply chain of the fisheries sub-sector from processers of the fresh fish to wholesalers to retailers, and to the exporters of fresh and processed fish.
The report said with the complexity of finalising the estimated annual loss due to Indian poaching, there have been few estimates of the loss.
"These estimates are conjectural and indicative at best. The estimates made by five different researchers range from prepared by Sri Lankan, Indian and Dutch fisheries experts in the last decade.
$ 16 million (lowest) to $ 56 million (highest) per annum. The average of these five different estimates is $ 41 million or Rs. 5.7 billion per annum," it said.
It also found that the total fish catch in the Northern Province has not recovered to the level of 1980 when 88,452 metric tons of fish were caught.
In 1980, the Northern Province accounted for 47% of the total fish catch in the country, which has now declined to just 12% in 2013.
"The total fish catch in the Northern Province in the aftermath of the civil war had grown by 38% between 2010 (33,600 metric tons) and 2011 (46,370) and by 28% between 2011 (46,370) and 2012 (59,340).
The drop in fish catch in 2013 was primarily due to increase in poaching by Indian fishers. This is an indication of the extra-territorial restrictions imposed on the fishers and the fishing industry in the Northern Province."
The research report revealed that the fishing sub-sector contributed only 1.7% to the national economy in 2010 which negligibly increased to 1.8% in 2013.
In contrast, the fishing sub-sector contributed 3.7% to the northern provincial economy in 2010 and doubled its contribution to 7.6% in 2013.
If not for poaching the fishing sub-sector's contribution to the northern provincial economy would be nearly ten percent, which would have been significant.
Poaching by Indian fishermen is Yahapalanaya's latest talk show
The issue of poaching by Indian fishermen, its implications to the Northern fishermen and the impact on the country's economy figured in an adjournment debate in Parliament on Friday.
Almost all members conceded that the issue of poaching had an impact on the country and called for an immediate solution to the issue.
Following are excerpts of speeches made in Parliament:
Vijitha Herath (JVP):
"Each party should respect rights of navigation through its territorial waters and exclusive economic zone, in accordance with international laws, rules and regulations."
"The first problem is that of this country's sovereignty. Our country's land and sea belongs to our people, and that right is there for us. But today, Indian fishermen are poaching on our territory, and that has affected our sovereignty.
"We elect a government to protect our sovereignty, and it is their obligation to protect it. It is irrelevant what party it is, but the Government and its President should ensure they do so.
So, firstly, the Government should intervene and protect the country's property. We saw on several occasions, leaders of this country discussing this issue. When a President or Prime Minister from this country goes to India they sign an agreement, but haven't found a solution to this."
"Some 517,000 sq.km and 200 km of sea belong to us. The part that belongs to us is clearly demarcated in the map. As India is closer to our country through agreement, we have marked our boundaries and named it.
It was internationally accepted. So, if someone fish illegally in our sea, it is breaking our export and import laws, and in addition, they are violating the 1974 agreement. In fact they are robbing Sri Lanka's fish resources.
"But, while this is taking place, why did we fail to resolve this matter? The Government should be able to protect the country's sovereignty and rights of fishermen.
The President is responsible of this. This year on February 2, fishermen went and met the President. There, the Sri Lanka Navy showed live footage to the President on how Indian fishermen poach in our waters.
The President ordered to arrest these fishermen, but it was just a word. The illegal fishermen were not arrested as ordered. Many leaders have done this, but practically it was not successful and it is shameful."
"The other thing is, these fishermen are arrested under the Imports and Exports Act of 1948, no. 48. They are taken to courts for entering Sri Lanka's territory illegally.
Boats are confiscated and the fishermen arrested, but after several days, they pay fines and are released because under this law we can't hold them and take boats into government custody. Recently, 16 of them were released by the President. So it is pointless to arrest them under this law.
"But under the Regulations for Foreign Boats Act of 1979, no. 59, we have the authority to take these boats into custody. My question is why the Fisheries Minister has not implemented this law. Why?
Because this is used as a political trump card. And, as a result, the innocent fishing community is victimised by this. Even Tamil Nadu's Jayalalithaa has used this as a political trump card, calling it a humane problem. But to answer her by arresting their fishermen under the Imports and Exports Act won't help.
"We know that, though they claim to be fishermen they are not. Tamil Nadu politicians and their friends own these boats, and these people work for them.
If they cross Sri Lanka's maritime borders, they are given Indian Rupees 500. They come here for that money. If the boats are taken into custody under the Regulations for Foreign Boats Act, the real owners will have to be produced before courts.
Now it is not happening. Why haven't the Ministries of Justice and Fisheries done something?
"The Foreign Ministry too has a part to play here. They can get a clear and finite answer by going to the UN assembly to debate this issue and our existing laws.
"In the Kilinochchi district the sea is not deep and there is a good population of marine life there. We can export the fish, prawns and cuttlefish and find good revenue.
But some of the seas off Kilinochchi are poached by Indian fishermen on three days of the week (Monday, Wednesday and Saturday) with about 1000-1500 trawlers.
They use a trolling system for their catch, destroying the seabed. Only 15% of their catch is fish, while the other 85% is wasted."
"This has caused problems within the two countries. The Navy says they can't take action because they don't have the authority. Fishermen in this country are facing economic hardships."
Vasudeva Nanayakkara (UPFA):
"This problem started during the conflict times. When our fishermen did not go to fish the Indian fishermen got used to do so in our waters.
So now when we go and ask their income generating industry back there is a conflict to resolve here. It is not a question of implementing laws."President has asked the Navy to stop this, but when 300-400 fishing boats come into our waters we'll have to stop them using power. How many Nay ships do we need to stop them? So there is a question of practicality here.
"I say that this problem is there in other countries too. Between China and Japan and even in European countries it existed, but they have reduced the problem.
The only way to reduce this issue is by discussing and arriving at an agreement.
"If our fishermen's way of living is hampered we should act to help them.
Why haven't we done something about that? We only speak about their plight, that Indian fishermen poach and that we cannot stop them, but not helped the fishing community. That is what this government should do till this problem is resolved.
"Internationally, bottom trawling is identified as an illegal practice. The UN can take action to resolve this matter.
Then why don't we get their help? Is this UN Assembly looking at war crimes? Why can't they resolve this fishing issue? It is an international responsibility. We need to call an immediate international assembly to solve this issue."
Niroshan Perera- National Policy and Economic Affairs State Minister:
"This is not a recent problem, but as a tradition, especially Indian and Sri Lankan fishermen have fished in these waters. Especially, after the end of the war, and after this government reduced the oil prices, the fish industry in the Northern and Eastern Provinces strengthened, and an opportunity arose to exploit the industry successfully.
"Economically, a large group of people in these areas are dependent on fisheries. As a government, we know that Indian Fishermen are fishing in our waters. We have given the Sri Lanka Navy all authority to arrest these boats and take to courts.
If someone claims that the government is not taking any action in this situation, it is a wrong presumption. But no matter how many illegal fishermen are taken into custody illegal fishing has not stopped.
"Because of the political situation in Tamil Nadu and the problem of ownership of Kachchativu Islands, and these leaders continuously asking ownership of it, this problem was not solved.
In 1974 and 1976 agreements were signed and boundaries established, but fishermen have started to fish in our waters because they can't go deep sea fishing for lack of modern technology.
Even when Sri Lankan fishermen explained to their Indian counterparts about this situation, they continued fishing. Their government hasn't taken steps to upgrade their fishing boats. As a result, not just with Sri Lanka, but even with Pakistan they have this problem.
"However, we know that we have to protect these fishing grounds as they are the economic resources of our country. We have discussed this and agreed that bottom trolling is illegal. But we have to find a permanent solution to this with the Indian Government.
"The Fisheries Minister has started to develop the fishing industry by using the latest technology. But we can't agree to some of the proposals by the Indian fishermen, where they say that they would continue fishing till their boats are upgraded.
If that is allowed our fish recourses will be destroyed, especially due to bottom trolling. Indian fish population is already destroyed as a result.
To stop this from happening, our President and Government has given powers to the Sri Lanka Navy to stop them from doing so.
"We are working along with the Indian side to arrive at a solution favourable to both sides. We expect support from all parties to resolve this matter."