All I want is my tractor, says displaced farmer from the north
By S. Rubatheesan
Writes to President to get his vehicle back from the Army
View(s):
Since the end of the war in 2009, many people from the former war-torn areas of the north have been searching for their loved ones whose whereabouts are not known.
But 62 year-old Kanthan Thadchanasingham isn't looking for someone but something – a treasured farm tractor which he had with him for almost 30 years.
In 1983, Mr. Thadchanasingham, a farmer in Rathnapuram, Kilinochchi bought a Massey Ferguson tractor for Rs. 700,000. He used it to plough his own field as well as others for a payment.
However, as the war heightened he was forced to leave his village with his family driving the tractor all the way to Mullivaikkal in Mullaitivu.
On the way his 12 year- old daughter fell victim to shelling.
"Since then everything changed," Mr. Thadchanasingham told the Sunday Times.
"I just want my tractor back, as it reminds me of my daughter," he lamented.He started moving out of his village in 2008 when the Army reached the area. He was able to take some of the family's belongings as he had a tractor.
As the Army closed in gradually during the final stages of the battle Mr. Thadchanasingham and family were among the thousands who moved on until they reached safe ground in Mulliwaikkal.
However, on May 15, 2009 they responded to the Army's call and started going back into areas secured by the military. Mr. Thadchanasingham had no alternative, but to leave behind his tractor, other possessions and documents.
His family was among the many refugees at Menik Farm in Vavuniya until they returned to their village in 2011.
Having discovered that his tractor was being used by the army, in the Iranamadu camp in Kilinochchi, the one desire of this farmer, now working as a labourer, to sustain his family of five, has been to get back his vehicle.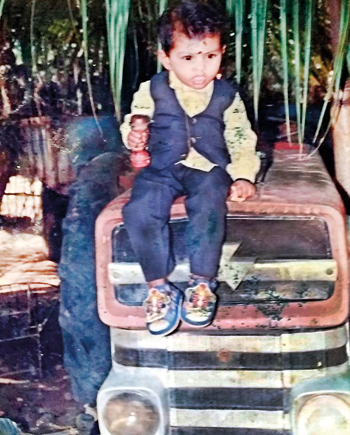 However, he says his appeals had gone unanswered and he took the opportunity this week to make a direct appeal to President Maithripala Sirisena who visited Iranamadu to inaugurate the National Programme for Local Food Production.
He tried to meet the President personally and hand over the appeal to him, but since he failed in his efforts he handed it over to Northern Chief Minister C. V. Vigneswaran who delivered it to the president.
He said, having searched for his tractor for several years he finally saw an Army personnel travelling in it in Kilinochchi.
"I asked the military to handover my vehicle explaining the hardship we are facing but they refused. I went to many senior officials but nothing worked," he said.
"I even borrowed money from neighbours to get a Sinhala translator and to travel to the police station in Kilinochchi. I am now in debt," he cried.
He still has a photograph of his beloved tractor.
"I have heard that the President is the son of farmer and I hope he will understand the difficulties of one. I heard he was visiting to support the agriculture sector. He is my last hope," the farmer said.
Meanwhile Military spokesperson Brigadier Jayanath Jayaweera told the Sunday Times that the military will look into Mr. Thadchanasingham's appeal