Take your seat: This has to be experienced not merely witnessed
Indika Ferdinando's latest play, "The Irresistible Rise of Mr. Signno", has many layers to it, the playwright cum director tells Chandani Kirinde
View(s):
Is it possible to experience a play rather than merely witness it? This is the question that award-winning playwright and director Indika Ferdinando will explore and hopes to find an answer to when he stages his latest play, "The Irresistible Rise of Mr.Signno" (or the metamorphosis of death by unnatural causes).
Ferdinando, whose earlier plays such as Colombo and Janadipathi Thaththa have won him several state theatre awards has undertaken his latest production as the practical component of the PhD he is reading for at Monash University in Australia.
"I am retelling a folktale which I have extended to run parallel to the contemporary social political situation. I want to convey through the play how the nobodies have become somebodies in Sri Lankan politics today," said Ferdinando.
But this is where the comparison with a conventional theatre experience ends because from there on he uses popular Sinhalese ritual practices to tell the tale through two different narratives.
"One narrative is told through death as the sub heading of the play goes – the metamorphosis of death by unnatural causes- while the second narrative is told by "Salu Paaliya" a character from Dahata Sannaiya – a traditional low country ritual .
Salu Paaliya is a character usually used for comic relief but in this drama it becomes a more complex character and meets a tragic end.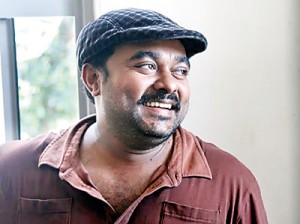 In addition to the dialogues, the three-hour theatrical experiment includes dance, music and masks while various fragrances will be released during the performance and food will be served during the 15 minute intermission, all of which Ferdinando says will test the question of "experiencing" a theatrical performance over "witnessing" it.
"Witnessing is only ocular centric but experiencing means perceiving something with all your senses,"Ferdinando explained.
Audiences will also be treated to some enthralling dance performances during the play. "What we have seen on stage in Sri Lanka is a much tamed version of low country dance in which its vigour and energy is lost.
I will be using the original version of these dances along with traditional drums that will generate a physical experience for the audience as is the case when these rituals are performed by their practitioners," he said.
Ferdinando's cast of around 20 have been drawn largely from the under graduates of the University of Visual and Performing Arts where he is now a senior lecturer.
"Most of the students in our theatre programme are capable of acting, dancing and singing and also playing instruments. The cast is a mix of amateurs as well as professionals," he said.
The Irresistible Rise of Mr. Signno will be staged on October 10 and 11 at the Asoka College Gymnasium in Maradana.