Story with a lesson: Creating a hazard- free home
By Dhananjani Silva
Sybil Wettasinghe's new book Ran Ruwan Lamun is an invaluable guide to household safety for both children and parents
View(s):
It's story telling time. A group of small kids usher in Sybil nenda onto the stage. She sits on a chair, flanked by the young kids; prepares herself to narrate her story to a large audience that flocked to the Mihikatha Madura at BMICH last Wednesday.
To the enthusiastic audience of both children and adults, Sybil Wettasinghe this time had a different story to say….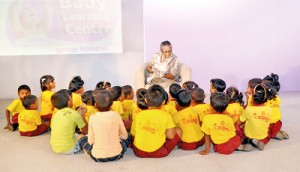 In Ran Ruwan Lamun launched this week at BMICH to coincide with World Children's Day, the veteran children's writer and illustrator Sybil Wettasinghe, using her simple yet effective narrative style, advises children on common accidents that they would encounter at home.
The collection of verse, backed by eye catching illustrations, discusses the common mistakes that children tend to commit at homes from climbing balconies or roofs, playing with candles to meddling with hot cooking utensils, electrical items, jewellery or perfumes used by their parents- all of which can result in fatal accidents and deaths.
As much as the book warns young inquisitive mind against the risks they take without the knowledge of their parents, the book serves as a valuable guide that educates parents on accident prevention and child safety at the household level.
An effort towards contributing to the common goal of creating a hazard free household environment for children- the book project is a result of a joint venture by the Sri Lanka College of Pediatricians and Unilever Sri Lanka's Pears Happy Baby Learning Centre knowledge sharing imitative which has reached out to over one hundred thousand mothers across the nation.
As an extension of the Pears Happy Baby Learning Centre programme, the partnership undertook to execute the valuable concept put forth by the Consultant Pediatrician Dr. Kalyani Guruge.
Addressing the book launch, Ms. Wettasinghe said that writing stories and doing illustrations for children's story books was the only task she engaged in since 1948.
"Ran Ruwan Lamun is based on real life incidents. I am so happy to have got involved in this project because, we all have a responsibility to protect our beautiful little children. Especially the mothers have a big role to play in creating a safe environment for the child," she says.
The launch was also attended by the Media Minister Gayantha Karunathilaka, officials of the Ministry of Child Development and Family Health Bureau, representatives from the Sri Lanka College of Pediatricians and officials of Unilever Sri Lanka.
The first copy of the book was presented to Minister Gayantha Karunathilaka who commended and congratulated all those involved in the book project, pointing out that it was a timely need given the level of negligence displayed by adults concerning the safety of their children.
President of the Sri Lanka College of Pediatricians Prof. Sujeewa Amarasena said that child deaths caused by accidents, is an area that receives less attention.
He also said that, 75% of child accidents take place at household level and that they are optimistic the book will be instrumental in bringing down the number of child accidents that occur at household level by dissemination of knowledge on safety, vigilance and prevention.
Ran Ruwan Lamun which has been endorsed by the Ministry of Child Development and Women's Affairs and the Sri Lanka College of Pediatricians, will be distributed amongst pre-school teachers, students and parents across the country through the island wide network of early childhood development officers.