Galle Fort's upcoming trendsetters
View(s):

Colombo Fashion Week (CFW) is taking one of its annual road trips. In addition to the ramp events a Retail Walk is also a part of this year's attractions featuring fashionable cafes, restaurants and clothing outlets within the Galle Fort.

Marked by a red or green flag, these will be partnered with CFW until Sunday, October 4.

French cafe Gaelle Botz's La Clochette has a room of carefully curated pieces of clothing – some designer items and others curated by Gaelle. "It's for my fun," she shares of her pet project. Gaelle opened her boutique hotel and French café just a year ago and this is her first experience of Fashion Week.

Having heard promising news of CFW while in France she says she is excited to partner with the show.

M.K.M Ramzeen is outside his textile and jewellery store. There isn't a CFW flag at his doorstep, but "everything I have in my shop is different," he tells us.

Returning to the country just before he took over this business around five years ago, Ramzeen feels "the competition" between clothing shops in the Fort has increased.

There has been a rise in customers of late, he notes, and popular requests are for "uncommon clothes" which have a streak of Sri Lankan identity.

In keeping with this new fashion conscious consumer Ramzeen plans to completely revamp his shop and designs; CFW coming to the Fort, he thinks, is a good thing. "More people have come in to the Fort specifically to buy clothes and jewellery," he says. "It's good for businessmen like me."

Just opposite Ramzeen is 'The Three by TPV' run by Thomos Elbeaum with two partners. Opened quite recently it features what can perhaps be described as one of the Fort's most eclectic selections of clothes, art and jewellery.

"We've always tried to have different things that you cannot find anywhere else," says Thomos. "Basic is boring." TPV has its share of both local and tourist clientele-unlike some shops in the Fort, where prices can be best described as ambitious, the shop tries to maintain mid-range prices for its offerings.

TPV's designers come from all over Sri Lanka, and some items are produced by designers in the Fort. Galle Fort has become somewhat of a hub for creative souls and as a result "more nice shops are coming up inside the Fort," says Thomos.

For Colombo Fashion Week TPV offers a 20% discount on clothing and jewellery (until October 4).

Before heading off to Jetwing Lighthouse for the Bright Sparks show we walk into Casual Edge, where we bump into a designer who identifies himself simply as Krishan.

The shop carries a largely handloom based collection, some of which Krishan designed himself. He grew up in the Fort and has chosen to make a living here.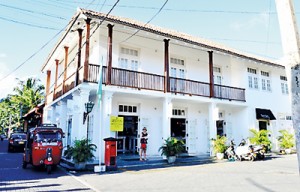 "I'm very happy that something like Colombo Fashion Week has come to the Fort," he says. "We have so much to offer when it comes to fashion."