Fun and bright hits Galle
With Colombo Fashion Week's Resort Wear edition taking the ramp in Galle this weekend, Duvindi Illankoon, Purnima Pilapitiya and Vinusha Paulraj report on the Bright Sparks segment
View(s):
Heshan De Silva
Heshan De Silva's collection took the ramp at the Jetwing Lighthouse hotel with an air of quirky elegance.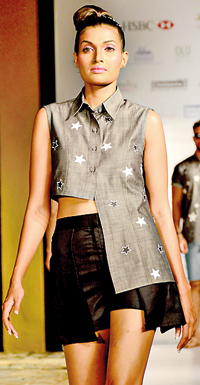 A veteran of CFW's Bright Sparks shows, Heshan is known for incorporating patchwork and handwoven fabrics into his designs and his men and women's cruise ship holiday inspired collection with pure leather and shoes (of his own design) had an elegant flavour with embroidered stars adding a fun twist.
Nayani Fernando
Nayani's collection of easy breezy pieces floated onto the catwalk in cool, clean shades of white, grey and blue.
The young graduate had previously debuted at London Fashion Week and making her first splash into the local fashion scene with this year's Bright Sparks- Resort Wear edition, her collection reflected her own holiday preferences – easy to pack and decidedly feminine, literally seamless garments.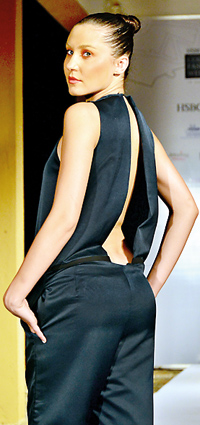 Angelina Seneviratne
Angelina first launched her label in 2007. Taking the Bright Sparks stage for the second time, the designer's collection was a tropical tribute to Sri Lanka's endemic flowers.
Blossoms set against familiar batik were a classic combination as a rainbow of jumpsuits and dresses coloured up the catwalk.
Anne Devananda
Anne's passion for design led her to launch her brand DVND last year. The young designer has been at local fashion shows before and this collection, reflecting her own style was playful, functional holiday wear.
Handloom fabric lent the tomboyish shorts and other pieces a local tang while the showstopper – a maxi resonated the funky, young traveller.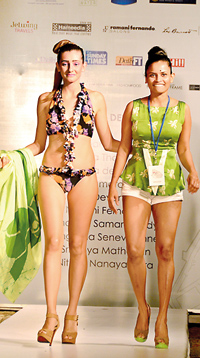 Tarja De Silva
Showing at CFW for the second time Tarja De Silva's collection was a celebration of the quintessentially exotic island

holiday.
Her hand-made fabrics and use of tie- bleach came alive with a sunset-inspired colour palette, while hand-painted pineapple prints added punch to the entire selection.
Shanika Samarakkody
Shanika's collection of menswear offered a fresh perspective of the masculine vacationer. Finding a balance between practicality and high fashion, she jazzed up her selection with newspaper prints set against shades of blue, lightweight material.
Echoing a Mediterranean getaway, her collection was a complete wardrobe; from beach to formal wear.
Ridma Samaranayake
Ridma made an entrance onto the local ramp with her colourful collection at the Bright Sparks show earlier this year.
Her resort wear selection paid tribute to Modernist architect Antoni Gaudi with vibrant pieces that echoed the Barcelona-based Gaudi's organic style infused with Ridma's distinctive loud, sharp silhouettes.
Nithya Nanayakkara
Nithya's collection of jungle prints saw models on the ramp with femme fatale grace. Her safari inspired collection had a wild, sturdy appeal, while gold and red khaki prints added a glamorous element.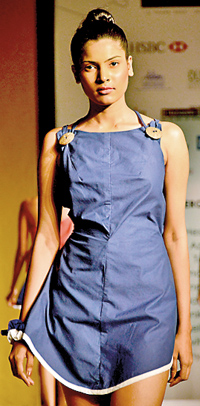 Srivithya Mathavan
Founder and designer of MATH N 88 launched in 2013, Srivithya studied fashion design at the Istituto Europep Di Design in Milan, Italy and has showcased beachwear collections in France and Italy winning several accolades for her work.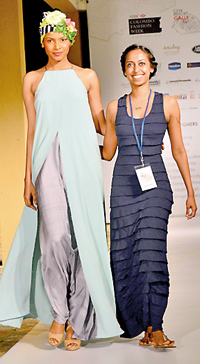 Experimenting with colours, structures and compositions she finds inspiration through contrasts.
Azzraa Thaarick
A seasoned traveller, Azzraa draws inspiration from everything around her including abstract objects, nature and landscapes.
Her minimalist collection showed a keen appreciation for comfort in a mix of soft and hard fabrics.