Fuelled by passion WSP raise bar with Les Mis
By Smriti Daniel
View(s):
It does not always feel natural when a theatre company argues that their play – or in this case, musical – is relevant to contemporary Sri Lankan life. This should be the case with Victor Hugo's five-volume-epic Les Misérables, whichwas published in 1862.
Its action runs up to the June Rebellion of 1832, and is set in a Parisian world that both time and geography must necessarily render at least somewhat alien.
But the Workshop Players (WSP) were justified in making that claim – over 150 years after it was published, here is a story whose concerns are startlingly resonant; every dilemma its characters grapple with is unmistakably modern.
This week, in the first official amateur staging of Les Misérables in Asia, WSP brought the famed musical to life, and earned themselves a standing ovation.
Thursday's opening night ushered in high expectations. Jean Valjean played by Jehan Aloysius stood toe-to-toe with Inspector Javert played by Kanishka Herat. One is a citizen convicted of stealing a loaf of bread, the other the official tasked with seeing he pays for his crime.
Valjean is released on parole and the action moves quickly from there. Valjean finds himself unable to escape the stigma associated with imprisonment – there is no way he can earn an honest living.
But when he succumbs to temptation and despair he is redeemed by a single act of forgiveness.
This one act of grace liberates within Valjean a truly moral being, and all his suffering breeds an immense sense of responsibility to those as unfortunate as he once was.
When he discovers that he has inadvertently wronged Fantine, a woman who used to work at his factory, he determinedly sets out to rectify it. Into his care comes Fantine's illegitimate daughter Cosette.
It is her happiness that Valjean prizes above his own and through assuring its continuation, he repays his greatest debt fully.
However, Valjean's is far from the only narrative of interest. Fantine, played on opening night by Melanie Bibile, is already doomed when we meet her, but has one of the most beautiful songs in the production in which to tell us of her dreams, long since dashed.
The Thénardiers (Sean Amarasekera and Shanuki de Alwis), those unscrupulous inn keepers, are as evil as they are entertaining; Cosette (Shenali Pilapitiya), Marius (Gyles Dharmaratne), and Eponine ( Amandhi Caldera) are young people caught up in the violence of the revolution and tangled in love.
Aloysius is a veteran of Sri Lankan theatre and is such a presence on stage that I feel he is often inescapably himself, but in portraying Jean Valjean the actor delivers one of his finest performances.
To this unforgiving role, Aloysius brings a surprisingly sweet and strong upper register and long, delicate notes which he holds with absolute confidence as he abandons himself to the part.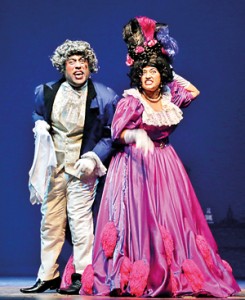 Herat, a newcomer to the WSP troupe, took a few moments to warm up but once he did, he earned his place as Valjean's nemesis.
Bibile's Fantine is vulnerable, and her delivery of I Dreamed a Dream is distinguished by lovely, warm tones. Amarasekera and de Alwis as the Thénardiers are vile and vulgar –and perfectly cast.My favourite couple that night, they earned the first laughs of the show and continued to provide comic relief from what was otherwise an almost unrelentingly grim series of events.
Pilapitiya and Dharmaratne are tender and earnest as the young lovers, but for me Caldera's portrayal of Eponine was one of the best performances of the night.
The catch in her voice and her nuanced yet impassioned delivery of On My Own made clear she was a master of her instrument. Her character is one of the few in the musical where a woman is given agency and the strength to rise above her circumstances, but unfortunately, not a happy ending.
The chorus' first appearance brought with it a frisson of power but also some voices out of step. However, by the point they had built up to One Day More, they were so commanding, their voices soaring in such perfect harmony that you could feel your skin break out into goose bumps and the hair on the back of your neck rise. (Is there a more beautiful leitmotif on Broadway than that of Les Misérables? I'm tempted to say no. Each appearance of the familiar melody stirs the heart.)
These performances were supported by an exceptional production. WSP's Phantom of the Opera also opened on October 1, just one year ago. But the company's growth in even so short a period is immediately evident – here the stage design is even more ambitious and professional, shifting fluidly from scene to scene; costume and makeup transform actors more completely; the lighting works harder to achieve moments of absolute drama. (Of special note, the beams of 'sunlight' streaming through the shutters onto the group of students plotting rebellion; the bright spotlight that marks each death and seems to guide the soul to heaven.)
It's true that there were a few technical glitches with the sound, parts where voices strained, over-enunciated or fell out of harmony but to dwell on these minor (and fixable) issues is to nit-pick.
Instead Les Misérables should be seen for what it is – a milestone in WSP's already expansive repertoire. The production was, by any standards, a remarkable achievement for an amateur company fuelled simply by passion for what they do.
The Workshop Players' production of Les Misérables is directed by Jerome L. de Silva; the music director is Surein de S. Wijeyeratne and choreography is by Shanuki de Alwis.
Gihan Jayatilake, Rohan Jayatilake and Panduka Samarasinghe were on lights, with set design by Jerome L. de Silva and costumes by JoJo. Les Misérables is licensed by Music Theatre International by arrangement with Cameron Mackintosh Ltd. and will be on till October 11 at the Lionel Wendt Theatre. Tickets are priced at Rs 3500, 2500, 1500 and 600 (Balcony)