Bonsai: Living images
By M.A. Pemasiri
View(s):
We are surrounded by various forms of beautiful trees, and most of us simply enjoy their beauty, without thinking much about the features which make them beautiful.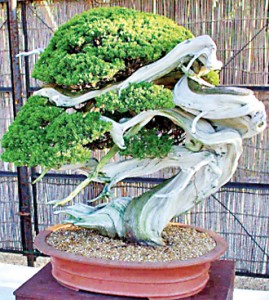 For a Bonsai enthusiast, these beautiful forms form the basis for inspiration. In order to reproduce authentic miniature images of such trees, you have to analyse their structure.
A careful analysis of a tree leads one to understand its life story and the conditions under which it grew over the years. For example, mountain trees grow in thin poor soil, and are exposed to strong winds.
Their life is a constant battle for survival. However, such battle will give them, their unique character.
A bonsai artist will also have to learn the process of a young plant becoming an old tree, shedding many branches, leaving the essential stronger ones, strong surface roots becoming a part of the picture, giving stability and a mature look.
What matters in a Bonsai, is the true quality of the specimen. It is a fact that the beauty of the tree will improve with the length of time it had been trained as a Bonsai.
But unless the basic form is of quality, ageing itself will not make it, a good Bonsai. But, with Bonsai you can keep on changing or modifying the structure or the form, if you desire to do so.
It is a work of art which is never finished, you can keep on working with it over the years and gain immense satisfaction.
A large collection of high quality Bonsai created by the members of the Sri Lanka Bonsai Association is on display at their annual exhibition "Reflections – 2015" at the National Art Gallery, Green Path, Colombo 7 today, Sunday, October 4.