After the hard work; the big day's tomorrow!
By Dhananjani Silva
Sangeetha Weeraratne of Model Shop, talks of Miss World Sri Lanka 2015, and beauty with a purpose
View(s):
After six weeks of meticulous training on the catwalk, on etiquette, speech training, personal grooming, photography etc, things are hotting-up for the finalists of this year's Miss World Sri Lanka pageant with the decisive grand finale that will pick the most beautiful woman to represent Sri Lanka at the world pageant only a few hours away.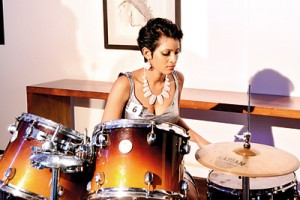 The finals of the Siyatha Facia Miss World Sri Lanka 2015 will be held at the Colombo Hilton tomorrow (October 5) and the young beauties are feeling upbeat about the show.
Equally excited are the organisers – the Model Shop- particularly the three directors, Sangeetha Weeraratne, Shereen Kumaratunga and Dhananjaya Bandara whose ambition is to see Sri Lanka produce a beauty queen who could bag that coveted world title.
Running parallel to this ambition is their effort to effect an attitudinal change in the general outlook of Sri Lankans towards beauty pageants. "Miss World is about beauty with a purpose.
The winner has to be someone who is willing to work towards helping others to realise their dreams while pursuing her own. Hence the title should be used for the benefit of others.
The Miss World pageant is about creating that voice- to become an ambassador for the country- to be a voice for the voiceless as society often pays attention to the pressing social concerns when represented by prominent figures such as beauty queens," Sangeetha explains.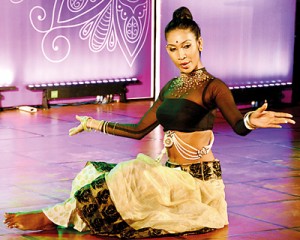 Noting that there are instances when those chosen from preliminary rounds drop out from the pageant due to family restrictions, Sangeetha says it is a pity how society blocks them from reaching their full potential and this is mainly due to lack of awareness.
With a view to creating this awareness and encouraging participants, especially those from outstation areas to take part in the pageant, the organisers travel out of Colombo prior to the pageant- Kandy being chosen for this purpose this year while last year it was Kurunegala.
Miss World Sri Lanka 2015 is the third pageant organised by Model Shop and most of the mini pageants in this year's contest, such as Miss Body Beautiful, Miss Talent, Miss Personality, Miss Beautiful Smile, Most Beautiful in Eastern Wear, Miss Sports and Fitness, Miss Congeniality and Miss Glowing Skin have already been conducted following several rounds of thorough training and guidance.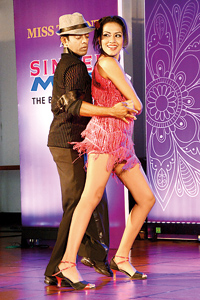 According to Sangeetha, the pageant has undergone several conceptual changes since the first Ms. Sri Lanka who took wing to the world pageant returned and shared her experience.
"We do not select the winner and train her on facing the mini pageants, instead we give training to all the final contestants so that whoever who wins needs to do only the additional preparations," Sangeetha adds.
This year's pageant received 370 applications and battling it out at the finals tomorrow will be 13 lovely and dynamic contestants.
Adding that there is a world of opportunity out there for the winners Sangeetha says they are happy about the Miss Sri Lanka title winners created by Model Shop in the past in terms of their performance at the international level as much as their personal growth.