Kids world
View(s):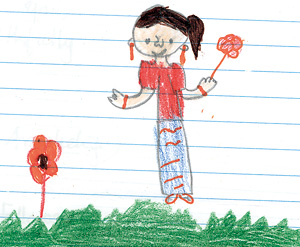 My mother
My mother gave birth to me. She fed me. She is the best in the world. I know a mother protects her children. She shows the correct way for me. I love my mother very much.
Jithmi M. Arachchige (Grade 2)
Sujatha Vidyalaya, Nugegoda
---
Football
The beauty and popularity of football lies in its simplicity. Football has been officially known as 'Association Football' since the formation of the Football Association in 1863. 'Soccer' as the sport is also known, was originally derived from the Association. Considered the world's most popular sport, football is played and watched by both men and women.
A football match is played by two teams of 11 players on a rectangular pitch. The game consists of two
45 minute halves separated by a short interval. Other forms of the game include 'Beach Football' and 'Futsal'.
A football team is divided into strikers mid-fielders, defenders and one goal keeper. The main job of
the strikers is to score goals.
The mid-fielders role involves both defensive and attacking play. Defenders assist the goal keeper in protecting the goal. The goal keeper, the sole player allowed to handle the ball, only within the penalty area, protects the goal. The referee has full and final authority during a match and acts as the match time-keeper.
The world governing body of Football, 'Federation Internationale de Football Association' (FIFA) was formed in 1904 with eight members. Presently there are 209 members.  The FIFA World Cup is played every four years in different countries.
Football teaches the players the value and the importance of
discipline and sportsmanship.
"Football, it's the beautiful game," – Pele.´
Akindu Karunaratne (12 years)
S. Thomas' College, Mt. Lavinia
---
Dogs
Dogs are very interesting animals.
They are very common animals and faithful to man. They can be kept as pets. They belong to the group 'omnivore'. They are descended from the wolf. There are more than 200 species of dog around the world. The most famous one of all is the Golden Retriever.
Dogs can be found all over the world. They can be found on roadsides, houses, army posts even in deserts! Their food mainly consists of birds, lizards, snakes and insects in the wild. If tame, then food like biscuits, fish and milk is their diet. The dog has super human senses. It can see in the dark. But the most recognizable feature is their sense of smell. They can smell a dead cat more than 400 feet away. That is why dogs are used by police to sniff out criminals. Dogs are faithful animals.
If their master is sick he can sense it.
Dogs always protect their masters. That is why we should protect dogs. They are very important animals. So protect them.
Sanidu M. Arachchige (Grade

Vidura College
---
Myself
I am Anuk Kurukulasuriya.
I am ten years old. I study at Royal College, Colombo. I am in Grade Six. My class is 6M.
My father is a lawyer and my mother is a teacher. I have two sisters. They study at Musaeus College. I like to play basketball.
My favourite drink is orange juice.
I love my family very much.
Anuk Kurukulasuriya (10 years)
Royal College
---
BBQ Night on Election Day
It was Election Night; everyone was waiting anxiously to find out the results.  As kids, we look forward to such events to have some fun. We all got together and  came up with the bright idea of holding a Barbeque Night.
Clay pots with glowing hot embers were placed atop the fireplaces. My dad, ably assisted by Uncle Rizwi, was quick to prepare the barbeque on pointed spikes and placed them on the burning charcoal embers to be fried. Meanwhile my younger brother Usman, sister Thameena, cousins Ajmal and Sara were all happily dancing to the music provided by Ajmal's Bluetooth Music Box. It was 2a.m., when the BBQ was actually served and everyone was treated to a hearty meal.
By now the long awaited moment arrived when the first of the postal votes was announced. However the results that followed were received with loud rounds of cheers, applause and burst of crackers.
It was the break of dawn and we were all exhausted, tired and sleepy and within a few minutes we were overtaken by a deep slumber. Lost in a world of our own, we were rudely woken up by the sounds of bursting crackers heralding the advent of a change in regime. We all look forward to better times ahead for all Sri Lankans.
Ahmed Umar Asmi
(10 years)
Zahira College, Colombo
---
My pet
My pet is a dog. Its name is Sheena. Sheena is black in colour. She likes to eat rice and likes to drink milk. Sheena likes to play with balls. She loves eating biscuits too.
She barks like a lion, runs like a cheetah and plays like a rabbit.
I love her so much because she's so pretty and adorable.
Inara Pathirana (10 years)
St. Nicholas Int. College
---
My brother
My brother's name is Raqy. He is a good boy. He is three years old. He lives in Dharga Town.
He comes to play with me. I really enjoy being with him. He likes to eat ice-cream.
He likes to drink orange juice. He likes to ride the bicycle. He likes to watch 'Animal Planet' on television.
My brother loves me a lot and I love him too.
Mina Al Fathima (Grade 3)
Lyceum Int. School, Panadura
---
Coral reefs
Coral reefs are found in certain parts of the ocean. In Sri Lanka too, we find coral reefs in certain places in the sea. The most famous place for coral reefs in Sri Lanka is Hikkaduwa. This place is popular among tourists and school children. The coral reefs in Hikkaduwa are beautiful and tourists flock to this place.
These coral reefs are colourful and different in shape. You don't need to go very far into the ocean to see them as they are very close to the shore. Coral reefs help to protect beaches and coastlands from big waves which pound into the shore.
People won't protect the coral reefs. Most of the coral reefs are taken to be sold. The fishermen also don't care for them and break the coral reefs with their boats. It is our duty to protect the coral reefs. It should be protected for the sake of the shores around the island. Removing the coral reefs should be strictly prohibited as coral reefs are a treasure to people.
Aneesha Luffar (15 years)
Malwana Int. School
---
The dancing concert
It was August 2, the day for the Kalanjali 2015 Bharatha Natyam dancing concert of Sathya Sai Kalalayam. Everyone was excited.
The chief guest was the
Assistant Indian High Commissioner. One hundred and fifty children participated in the dances. Most of the visitors were surprised that such small children could give such a performance.
I think we should seriously thank Mrs. Umah Sritharan, our dancing teacher for all the effort she has taken to train us. I haven't got a gift valuable enough to offer her. I think the best gift is, for me to dance well so that she can be proud of me.
Narmada Bharathi
Sussex College, Kandy
---
The country I like to visit most
The country I like to visit most is Switzerland, because it is a very beautiful country. The capital of Switzerland is Berne. The largest city and business centre is Zurich.
Swiss people always work hard and many of them work on small family farms. They produce Swiss cheese, milk powder, chocolates etc. These things are famous all over the world. In addition, they are specialized in manufacturing expensive and luxury goods such as machines, engines, watches, clocks, jewellery and musical instruments.
Switzerland is situated in Central Europe. It has several cities like Geneva. The Swiss climate varies from place to place. Winter season is very cold and snowfall increases. In spring and summer, the alpine meadows are bright with flowers.
Millions of tourists like to visit Switzerland every year.
Sherminda Perera (Grade 5)
Jennings Int. School, Nainamadama
---
The value of reading
Reading is a very useful hobby. It helps us to spend our leisure in a useful manner. We can improve our knowledge by reading. We read novels, short stories, magazines and newspapers. We also read books on various subjects. We can get pleasure by reading novels and short stories. We can learn good qualities of great persons by reading their biographies.
I am a member of the public library. I borrow two books at a time and I can keep them for a period of two weeks. Books can be regarded as our friends. 'Reading makes a perfect man.' This is a great saying expressed by Sir. Francis Bacon.
Books basically contain knowledge on a variety of subjects. It is said that knowledge is power. The best way to gain knowledge is by reading books.
Changa LiyanaArachchi (13 years)
Sri Lanka Singapore Friendship College,
Weeraketiya