When Daham makes newsMy dear Daham aiya,
View(s):

I thought I must write to you because for some inexplicable reason, you seem to be the man of the moment these days. Everyone is talking about you just because you accompanied your father to the UN— and they are not at all interested in what your father said or did in New York!

Your critics are saying that you had no right to be there but I, for one, can't see what this fuss is all about. What is the point of being President if you can't take your son for a little trip around the world? As far as I am concerned, Maithri could have taken your pet Poos Kitty with him to the UN.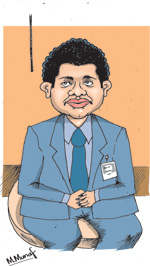 It is not as if Maithri is the first person to give extra privileges to his son, is it? It all started from the very beginning when the Grand Old Man DS himself bestowed a few favours to his son, Dudley. And by the time DS died, he had given instructions to Lord Soulbury that Dudley should succeed him!
That was only the beginning of the trend. SWRD was assassinated before he could think of his children succeeding him but Sirima ensured that it happened although it was Satellite who did so, whereas poor Anura had to spend most of his years warming the opposition benches of Parliament.
It appears that of those who had eligible children only JR's offspring are not in politics. Premadasa's son is in the thick of politics now (though that he wasn't the case when his father was the boss) and as we all know, Mahinda maama took this practice to new heights with young Namal.
When he was asking for our vote, I know Maithri told us that he would put an end to nepotism and I think that is why everyone is crying foul. Since then, all that he has done is to appoint a brother as Chairman of Sri Lanka Telecom and take you to the UN. Is that nepotism, I ask. Bambuwa thamai!
Daham aiya, I suppose any publicity is better than no publicity at all. The last time we heard of you was two and a half years ago and that was when it was claimed that you assaulted the son of a Police officer at the Pasikudah beach. Maithri was only a minister then, but that made headlines as well.
What upset Maithri at that time was when, after the issue had been settled, someone claimed you had boasted that no Police officer will punish you because you were the son of the 'next Prime Minister'. Now we know why Maithri was upset. You should have said you were the son of the next President!
During his presidential election campaign, Maithri did remind us of this incident and tell us how he acted without influencing anyone or seeking special privileges as a minister, even sitting on the bankuwa at the Police station like everyone else for several hours until the matter was sorted out.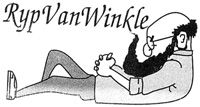 We thought we had heard the last of Maithri's offspring after that but we were wrong. A few weeks ago, there was a hue and cry because your sister presided at some official meetings at Polonnaruwa. I don't know why she did so, but I am sure there must be a reason in 'yahapaalanaya' for that.
Unlike her, Daham aiya, we were glad to see that you had offered us an explanation for your trip to New York. In your facebook page you told us that you accompanied Maithri only because your mother was not attending- and how you were representing the youth of our country at the UN.
That is very thoughtful of you, Daham aiya, to tell us why you went there and how you brought fame and glory to our country. Namal never did that. A little question bothers me though: had your mother attended, would she have sat with the Sri Lankan delegation at the sessions of the UN? I think not.
Daham aiya, you don't need to worry too much about what people are saying about you right now. If you continue what you are doing, by the time Maithri finishes his term of office you could be like Namal. Why, with a little bit of luck, you could even end up like Uncle Mervyn's Malaka aiya!
Maithri, before he became the boss, pledged that he would be different which is why people voted for him. He also told us that, unlike Mahinda maama, we were free to point out issues to him, if we thought we should. I hope he still believes that. Just so you know, that is why I am writing to you.
Yours truly,
Punchi Putha
PS: When Maithri returned from New York, he was given a hero's welcome as if he had just conquered the world, when the highpoint of his visit was probably posing for a photo with Obama and having a meal at the same table with him. There were even hoardings hailing him as the man who 'defeated the imperialist forces'. You know, Daham aiya, for a moment I had to remind myself that now the boss was Maithri and not Mahinda maama because it seemed as if nothing had changed!