Accidents mount but officials say figures show otherwise
By Chrishanthi Christopher
View(s):
The sharp increase in the number of accidents on our roads in recent times has made many people sit back and take note of the tragic deaths caused by road traffic accidents.
In the first three weeks of September alone, 75 people were killed and several others seriously injured in accidents that took place in several parts of the country.
Reportedly, last week, around 12 people died and over 50 were injured in various road accidents. The vehicles involved in the accidents included a defender jeep, private passenger buses, a lorry, three wheelers and vans.
While the casualty figures before us are glaringly high demanding immediate steps be taken to address the issue, the motor traffic department appears to be complacent. It keeps comparing statistics to the previous years and patting itself on the back for the good work
Police blamed excessive speed, lack of respect for road rules and ignorance of traffic laws as the main causes.
While the citizenry expressed the need to have the problem addressed soon, the traffic police department maintains there has been considerable improvement from last year's accident figures.
DIG Amarasiri Senaratne asserts that the number of accidents have dropped this year. According to the motor traffic police last year there were 36,043 accidents including 4,691 deaths.
However in the first eight months of 2015 alone, there have been 3,508 deaths due to accidents. And with four months to go to the end of the year the figure may be even higher, experts said.
Comparing the total number of accidents in 2014 which stood at 36,043, the figure 37,877 in 2013 is a slight drop. However the fall in the number of accidents from 2012 to 2013 has been remarkably high with a massive figure of nearly 9,000.Perhaps the motor traffic department has failed to keep up its good work as the drop in the number of accidents in 2014 was only 1,734.
Examining the reasons for the accidents in the last two years overtaking has been found to be the main cause. Statistics show that there have been 6,365 accidents in 2013 and 5,953 in 2014. Other accidents include vehicles turning over due to reckless driving.
While the casualty figures before us are glaringly high demanding immediate steps be taken to address the issue, the motor traffic department appears to be complacent.
It keeps comparing statistics to the previous years and patting itself on the back for the good work.On inquiry about the sudden increase in the number of accidents DIG Amarasiri said September's figures in 2014 were even worse. "We had more accidents in the month of September 2014," he said.
Currently errant motorists are stopped and spot-fined, with a penalty of Rs.1,000. CCTV cameras are fixed at various places on highways and on roads and junctions that do not have CCTV cameras, traffic police stand with instruments that detect speeding vehicles.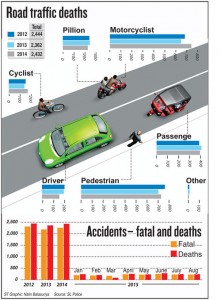 Motorists who see these police officers tend to slow down and then speed after they pass the spot.
The Road Development Authority (RDA) last month installed speed limit boards on all roads classified as A, B, and AB. The RDA said that motorists should restrict speeding to a limit of 50 km/h in built-up areas and 70 km/h in other areas.
The National Council for Road Safety which is responsible for maintaining a safe road environment for road users by improving road safety, said that it is having discussions with all stakeholders on how best to deal with the situation. "We are talking and are planning to take certain measures to control the problem," Secretary C. Umagiliya said.
Dr. W.A.K Weerawardena a surgeon at the Polonnaruwa base hospital who has researched road traffic accidents in the Anuradhapura district widely, said that there is a plethora of issues on road safety that have to be addressed.
In his research paper published in 2013 he had said that drunk driving, wrong driving techniques, driving without licenses and cattle, dogs and cats left to roam carelessly on roads are the main reasons for the high number of accidents.
Although his research focuses on the Anuradhapura and Polonnaruwa areas he opines that the findings are applicable to all areas of the island.
According to the study 32% of the offenders were drunk drivers.
Dr. Weerawardena stresses on the importance of having strict legislation to charge and punish persons driving after consuming alcohol. He said that there should be a marking system where offenders are suspended from driving for a period or prevented from driving altogether, reducing the risk of the offence being repeated.
He also recommends owners of cattle be fined for letting animals stray on roads and highways blocking traffic. "It is also important to remove stray dogs and cats on the streets," he said.
Around 18% of the accidents are said to occur due to stray animals on the roads.
Dr. Weerawardena also said the police should be strict on motor cyclists who travel without helmets. It has been found 42% deaths and 62% head injuries could be avoided by using helmets while riding.
Another factor that was found to be contributing to the increasing number of accidents is the lack of trainers or training centres for motor cyclists. Dr. Weerawardene said it is in a practice for motor cyclist to just learn riding from a known person and go in for a license.
"They very often lack the experience in riding in heavy traffic or following road rules. This makes them disregard road rules when on the road," he said.
Motor car drivers acquire a licence when they become 18 years. However they often do not own a vehicle and their skills get wasted. These people, when they idle for a long period tend to forget the basics of driving and road rules and often make mistakes.
Dr. Weerawardena suggests the registrar of motor vehicles step in and have a mechanism to test the driver's skills when registering a car.
This way he said that the persons can be made to revisit their skills and made to brush up on their driving skills.
Research shows that persons below 30 years prove to be more aggressive, reckless and disregard road rules. As such, he said it is imperative to educate youth on the importance of respecting road rules and behaving responsibly when driving.