Toastmaster Arfath earns finalist place at world champion event in Malaysia
By Duvindi Illankoon
View(s):
Arfath Saleem follows in the footsteps of Dananjaya Hettiarachchi, who brought fame to Sri Lanka last year by becoming the World Champion of Public Speaking at the 2014 Toastmasters International Convention in Kuala Lampur, Malaysia.
Arfath, who was mentored by Danajaya, placed in the Top 10 (from a pool of 30,000 applicant speakers) at this year's competition at the Toastmasters International Convention at Caesar's Palace, Las Vegas last month.
The 26-year-old began speaking at a young age as a student of Wesley College, although he wasn't genuinely interested until he started taking part in the All Island Best Speaker competition. He was placed runner up in 2011 for his speech 'The Wall', but stumbled the next year.
"I let it go to my head," he laughs. "In the end, I didn't even make it to the finals." The competition taught him the value of being placed second however, he notes. "When you make it to the top you can become too comfortable there.
The person who comes second or third is always striving to do better."
Arfath joined the Ralph Toastmasters Club in Colombo in 2013. He was inspired by the passion his fellow club members had for public speaking, and was soon rubbing shoulders with the best of them.
In 2013 he took part in his club's Humorous Speech competition. "I was very nervous," he remembers. "The first person who laughed was my mother when I told her I was taking part!" Nevertheless Arfath persevered, going on to the district level-in 2014 he was placed second runner up at the District 82 Humorous Speech Contest.
In 2013 Arfath attended his first World Champion Public Speaker contest-he didn't place but was inspired to try again. At Vegas, where this year's competition was held, Arfath represented Toastmasters District 82 comprising clubs in Chennai, India and all clubs in Sri Lanka.
His prepared speech 'Orchestra', about not losing sight of your goal in the razzle dazzle of life, got him through to the convention in Vegas. His speech at the event-the one that placed him in the Top 10-was titled 'To Be a Legend'.
Arfath credits several people for his success-at the top of the list is his family, including dad and "inspiration" Zameen Saleem. Danajaya Hettiarachchi, Dr. Dilip Abayasekara, A. Balraj and Niranjan De Silva are also credited, "especially for helping me understand that humility was a strength, not a weakness."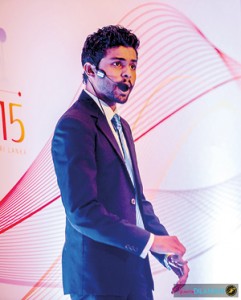 In turn Arfath hopes to mentor people when it comes to public speaking in the future, so that they can be inspired the same way he was. After all, he says, "the most successful people aren't afraid to ask for help."
Arfath's top tips for novice speakers
1. People love stories. Tell a story with your speech, don't deliver a lecture.
2. Make a point with your story-make sure that the lesson you're sharing can be phrased in under 10 words. Long sentences never make for good speeches.
3. Write a script of your speech, including punctuation marks for pauses. Edit and rewrite until it's perfect.
4. Your speech must be structured-have a plan and sequence for how you'll
deliver it.
5. Practice- all good speeches have been rehearsed to perfection.
6. Stick to your time limit; an ideal speech usually lasts 7-10 minutes.