On a long dark night the drums will roll
By Vinusha Paulraj
The Mirror Magazine catches up with bands and soloists as they gear up for the finals of TNL Onstage finals
View(s):
Finalists for TNL Onstage 2015 were announced last week following two electrically charged semi-final rounds. Building a reputation for bringing amateur acts with promise to the limelight, Onstage Finals over the past 15 years are also known for dazzling performances.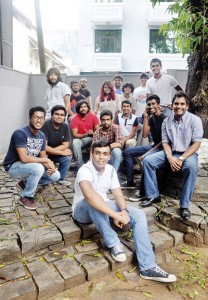 Excited to have pushed-through this far, eight finalists are also stoked to share the stage with internationally popular rock band- Puddle of Mudd.
Against Gravity admits to being slightly star-struck. Reality is setting-in slowly for the band, "We're drowning in the fact that PoM is coming!"
Taking the stage with their interpretation of Linkin Park's Numb, they feel the semi-finals gave them some much needed feedback which "wasn't just from our friends and family." Usually playing covers, heated rounds of competition brought with it revelations for this group.
Channeling their positivity to keep each other motivated through taxing hours of practice, they also learned "that we can be creative."
Performing his original music, singer/songwriter Nabith Maeesh feels he got far in the competition because of a personal touch.
"I used to do just covers," he admits and the strategy didn't work in previous competitions. A combination of his love for sports and biology lead him to study physiotherapy which he is willing to surrender if he can pursue music.
Ideally, he says in the near future plans to release an album of originals is in the cards.
Rocker from the hills, Amuthu felt optimistic after their semi-final performance. "We started practicing for the finals," even before the fateful phone call confirmed their place.
Although constantly requesting the boys to render "old Sinhala songs" their families have been supportive of "our noisy rehearsals." There is a downside to the Onstage experience they tell us, firstly the travel-time from Kandy to Colombo and secondly, there was re-routing the band had to do with their music.
Initially hoping to incorporate Sinhalese phrases to their originals, they later learned that it went against rules of the competition. "But we will somehow do it" they say mirroring the determination of their logo which is "a Bahirawaya, holding-up a mic."
Kamishka Morais admits to leaving his job as "a banker in Dubai" for music. This country singer-turned rocker will gladly do it again, if he had the chance, leaving behind his business management education.
Classically trained, he was introduced to his audience as a 'choir boy,' a title he's well accustomed to hearing. Up against those who create their own lyrics, Kamishka who decided to push his boundaries for the competition by taking-on rock is unfazed.
Youngest in the band competition Cosmogyral finds "the scale of this competition exciting." Exploding with energy, their version of "Uptown Funk" took the audience on an interstellar adventure which isn't their usual style.
"We generally strip-down a song" to keep with their acoustic tone they say, and have had to do the exact opposite, which has been a challenge well met.
Jumping in at Imaadh Dole's spontaneous invitation, the crowd bounced back his version of "Let's Marvin Gaye And Get It On" which he threw at them. "It was one of the best feelings" he smiles.
"I never thought of myself as having much vocal character," Imaadh shares, dismissing himself even during school days as a rather subtle, vanilla singer. Making a connection with his audience and using subtle tones he has learned works just as well as bolder song choices.
The challenge for the band Chain at times, has been deciphering their own music. "Everything we play is technically challenging," they tell us. Mainly a progressive-rock band, their sound is a layered one both in terms of aesthetic and genre. "We did what we intended to do" on the semi-final stage they said.
Considering the possibility of going "a little less progressive" to relate better to an audience for the finals, they still hope to encapsulate various different genres and keep producing pieces that "we are all at the end of the day, happy with." It became clear at the last round that Tharani Welihinda is good at keeping secrets.
Known for just her rich, powerful tones from the preliminary rounds, she brought-out her secret weapon- rapping skills. Few in the crowd didn't join-in when she belted-out Eminem's "Lose Yourself," complete with the gutsy rap between choruses. "I've never really rapped solo before," she says, just starting her stage career in 2012.
"I've always had stage-fright," which TNL Onstage has helped her overcome at an impressive pace. Most comfortable onstage when she spewed-out the lyrics metered to time, she hopes to surprise her audience once again.
Scheduled to take-off on September 26, tickets for the finals featuring Puddle of Mudd can be purchased at Rs.2,500 at TNL Radio Network, 5th Lane, Colombo 03.