Making it his business to make you look good
Young beautician Isuru De Silva offers a personalised service at his recently opened 'boutique salon'
View(s):
By Duvindi Illankoon
There's something about Isuru De Silva that will immediately put you at ease. Perhaps it's the twinkle in his eye, or the ever-present smile, or even his sunny disposition. Or maybe it's just the fact that he has quite a snazzy haircut-you just know this is a man you can trust with your hair.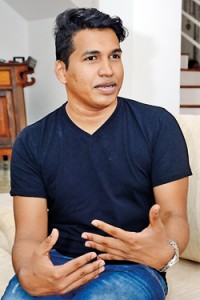 Isuru acquired a name for himself as a sought-after hairdresser and makeup artist at salons like Capello and Kess. His talent for casual, but elegant haircuts combined with a talent for making up a beautiful face renders him a reliable hand when it comes to the business of looking good.
It all happened quite by accident, though. Isuru grew up in Panadura, attending Panadura Royal College and graduating in the Commerce stream.
He joined the Kalutara Vocational Training Institute after his Advanced Levels-"I would never have become a hairdresser," he says, "if it weren't for the fact that the course I wanted to do (IT) was fully occupied."
Isuru remembers shrugging, and thinking he might as well get on with it. Six months later he started working at the La Paris Academy and Salon in Panadura.
It was through his work at beauty parlours, in particular at places like Capello and Kess that Isuru realized his full potential for giving what can be described simply as a good haircut.
He's a good listener and knows that clients usually have a good idea of what they want-if not, he's quite happy to guide them.
"My clients are the main reason I got to where I am today," he admits. "They spread the word amongst their friends and really helped me get a lot of exposure."
Isuru soon moved on to doing makeup, and discovered he had a talent with the makeup brush as well. His clients include some very well-known names – he works with entrepreneur Otara Gunewardene and was chosen to be the makeup artist for Bollywood singer Shreya Goshal during her visit to Sri Lanka earlier this year.
He names among some of his top clients dancer Prashadi Ranasinghe and actress Bhagya Hettiarachchi- "they're like friends now," he says of the latter. "They, along with several other clients, encouraged me to set up my own place."
So it was just a few months back that Isuru left Kess (where he worked and learnt for four years) and started out on his own. When we met him last week, he had just moved into his new premises; again, found for him by a client.
"I have to thank my brides for this," he tells us. "They paid a higher advance voluntarily so I could get the finance to move to a new place."
At his salon (on Ven. Palpola Vipassi Nahimi Mawatha in Colombo 8 and as yet unnamed) Isuru offers a very personalized service.
He calls this a 'boutique salon'- he's the main hairdresser, so clients get a one-on-one service from start to finish. At the salon (unisex), Isuru offers everything from hairdressing services to beauty treatments to makeup and bridals.
To make an appointment call 0773779917 or have a look at his Facebook page- 'Brides by Isuru'.