It's doggy-love with a touch of fashion
By Shenali Perera
View(s):
Stray dogs have always been so much a part of the Sri Lankan landscape that most people, tend to ignore them.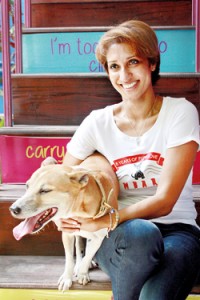 We are so accustomed to showing indifference, so overwhelmed by 'third-world problems', that raising awareness for the likes of stray dogs would be difficult without a shift in public attitude.
This is what Otara Gunewardene has set out to achieve with Embark, a brand that aspires to highlight the cause of the street dog.
Otara, who in 2014 created waves by selling her mega brand Odel in order to focus more on Embark and other animal welfare work, recently launched Embark's first stand-alone store at Galle Fort. She says the decision to sell Odel didn't take long and was made over about a year.
"I could have always tried to continue with Odel and continued doing both, but there comes a point in life where you really need to not be attached to a lot of things and focus on what feels important," said Otara.
Since its launch in 2007, Embark has facilitated the adoption, re-homing, sterilization and vaccination of street dogs across Sri Lanka as well as education and awareness programmes in various schools and communities.
Otara is also involved in various other conservation projects through the Otara Foundation and says she hopes to work with the government in making much needed changes in areas such as zoos and forest and wildlife conservation in Sri Lanka.
Asked for her thoughts on the incorporation of our wildlife into the tourist industry, Otara told the Sunday Times, "I think a lot of it is to do with implementation of proper management.
I've been, of late, to quite a lot of these parks in Sri Lanka and the biggest issues are allocations of land and planning of how it affects our wildlife, especially elephants.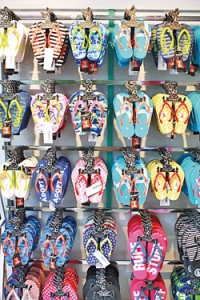 The human-elephant conflict has been created by us, not by them, even though they are the ones that get the blame. I just believe it can be done with proper management and planning."
Otara believes our street-dogs are a unique part of the island's culture that should be valued. Adopting her first street-dog Niko, the inspiration behind Embark, was an eye-opening experience for her.
"I was like a lot of other people who would never even think twice of the dogs you pass on the road, or think about what their life is like," she said. "We just need to live in harmony and treat them kindly. They are not a pest."
Embark's new store is located at 33, Lighthouse Street, Galle Fort. It is open seven days a week from 9 a.m. to 9 p.m.