FDO'S to rock Colombo
By Sanath Weerasuriya
View(s):
'House FDO's' has become one of the most vibrant places in Colombo with FDO's Jazz combination.
'House FDOs' is a two years old spot for music lovers of 60s, 70s and 80s to hang out. This offshoot of the immortal 'Rhythm and Blues' is full of good live music and a pleasant crowd.
It's hard to get to the first time, situated down a small lane off Park Road between the Colts Cricket Club and Havelock Road.
Then you proceed upstairs and to a door which reveals, especially on a Friday or Saturday night, a quite happening Retro Club.
Hot on the heels of the success of their venture of launching Voice, Colombo's trendiest karaoke lounge as well as taking over the management of Falsetto located at The Waters Edge, the three partners who embarked on this venture are now set to take over and revitalise popular night spot in Colombo – FDO's.
'FDO's located at the BRC was a place to meet and mingle for a mature clientele. It was a place to listen to music including a few local bands and dance to the tunes spun by the DJ. Crowd control is practised in a subtle manner in order to ensure that all guests are comfortable to themselves' said Jeevana Fernando, one of the partners of the project.
The management of Voice will be taking over FDO's and tweaking its overall operation to what we know will be a winning formula.
Whilst FDO's will continue to be a place for a mature and sophisticated audience it will be styled as a lounge as opposed to a club.
This subtle difference will make FDO's the place to be for a group of people who have not found a place with a style they could call their own.
'We will continue with our business mantra of personalised service for patrons, classy and comfortable layout and ambience that would keep in line with a sophisticated clientele and pricing structure that would make the lounge more accessible and allow guests to visit more frequently' he added.
The lounge will be open 6 days a week; thereby making it a place to unwind after work or to add a sparkle to a night out.
FDO's will be a place where live music will be key draw and attraction. Legends such as Geoff Fernando as well as more mainstream artistes will perform at FDO's.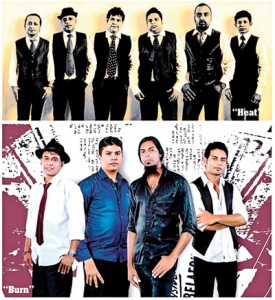 Colombo is yet to fulfil the demand for nightlife. With all establishments targeting a younger clientele who are keener on the club atmosphere there is a distinct vacuum to be filled that would allow a more mature audience to enjoy a relaxed night out complete with good music, food and company.
Sri Lankan talent will definitely be highlighted at FDO's and this will be the main feature of the lounge.
The popular band 'Gravity' comes alive on Wednesdays, 'Audio Squad' on Thursdays, 'Burn' featuring Geoffrey Fernando is the attraction on Fridays and Saturdays.
Sunday is dedicated as a casual night to feature local acts of new comers to the music industry as well as seasonal musicians teaming up for a JAM session.
Happy hour will be offered everyday between 7.00 to 9.00pm