Ragging makes mockery of free education
By Aanya Wipulasena
View(s):
It has been more than a week since Sajith was discharged from hospital after being severely beaten up by fellow students from his intake and senior batches but he still dreads the thought of returning to campus.
The attack by at least 150 Student Union members of the Institute of Indigenous Medicine (IIM) at Colombo University last week left six students, including two females, in Colombo National Hospital with severe injuries.

Concerned officials quickly announced an indefinite closure of the institute till the matter was settled. Educational activities were resumed this week but students say the matter is still unesolved.
Sajith, from Anuradhapura, a first-year student, sustained severe injuries to his back and hipbone. He had to go home for treatment and now does not feel safe returning to the IIM because he feels no proper action was taken over the incident.
This week, authorities at IIM launched an inquiry into the attack and police at the Welikada station, where a complaint was lodged by the affected students, separately recorded witness statements. The accused were released on bail pending further investigation.
"We were attacked because we objected to the activities of the Student Union," Sajith said. "This union is not even legal. The members rag new students and follow their own protocol, which some of us are opposed to," Sajith said.
About 10 students from his batch and 11 from the second year, who took a stance against ragging and union activities, have been harassed since the start of the academic year. The aggression culminated on September 1 with the mass attack. All 21 of these students stayed away from IIM this week, requesting that their safety be ensured.
One of them is a first-year female student who says that she was "embarrassed and shocked" after she was continuously slapped and even strangled by the mob. In a letter addressed to the IIM Director she says, "It was as if they were trying to take some sort of revenge.
And some girls were shouting at me indecently, asking to take off my shawl from my head. I really felt embarrassed and shocked to face such an unexpected incident all of a sudden."
She goes on to say that there were students hitting her with both their hands, and "pushing" her out of the lecture hall. She explains in the letter that the group attacked her in the belief that she had been recording the attack on the other students on her phone.
She lost a gold chain in the course of the attack. Other students also said they had lost mobile phones and other personal belongings.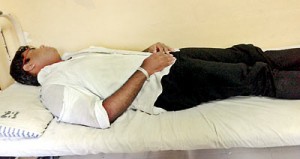 Dineth*, a second-year student at the same institution, said the ragging was often brutal. It was worse for students who opt to stand up against ragging or to inform IIM officials about it. They were restricted access to the library and canteen and even prevented from sitting on the concrete benches in rest areas.
The ragging culture in universities has grown to an extent where senior students plan it months before the new intake and even have a specific timetable. If students refuse to be ragged they are punished and even subjected to sexual harassment.
Dineth said all IIM officials had long been notified about the bullying, and victimised students had lodged two complaints with Welikada police, once in June and again last month.
"At first, we felt let down by the authorities. They did not take any action against those who harassed us. But after Tuesday's attack they started to listen to us and talk on our behalf," he said.
When, however, the Sunday Times contacted the Director of the IIM, Dr. S.D. Hapuarachchi she was dismissive and did not wish to share details regarding the matter. "This is an issue within the institution.
All we can say is that it was a fight between the students and we have launched an internal inquiry. The police are also looking into it," she said.
A separate incident came to light this week in the case of the hospitalisation of four Kothalawala Defence University students who had been severely attacked by another group of students.
The university's Deputy Vice Chancellor, Major-General J.R. Kulathunga, said it had been a "normal" incident where two groups of students had had a fight and that it was not related to ragging.
"These incidents happen anywhere where boys are. It happens in any society and any university," he said, adding that the incident had taken place on August 25.
Despite the existence of strict anti-ragging laws the offences continue. The Prohibition of Ragging and Other Forms of Violence in Educational Institutes Act No. 20, introduced in 1998, defines ragging as "any act which causes or likely to cause physical or psychological injury or mental pain or fear to a student or a member of the staff of an educational Institution".
If an individual is found guilty it is emphasised that many offences under the Act are "unbailable and liable to rigorous imprisonment, up to ten years. It is also possible that a student if found guilty under the provisions of the Act could be expelled from the Institution and also liable to pay compensation for any damages to property or injuries caused to the victims."
The report, "Sexual and Gender based Violence with Special Reference to Higher Educational Institutions", by Prof. Camena Guneratne of the Open University in Sri Lanka, shows that since 1975 at least 10 students have died following intense ragging (see details in the accompanying graphic).
The former University Grants Commission chairman, Prof. Mohan de Silva, who served from 2006-2013, said most of the groups who rag freshers and students of other batches were politically motivated. Students who could not cope with the pressure and psychological stress of ragging tended to drop out from university, he said.
"We boast of free education but we still have to eradicate ragging. We have discussed this issue at length but still students are ragged in our universities," he said, adding that the situation has become worse.
"Previously, it was only the third-year students who ragged the freshers but now the second-year students have joined. Females are the most victimised students," he said. Most do not lay complaints, fearing worse aggression in consequence.
Prof. Silva said a counselling system to help victims of ragging in state-run universities was yet to be developed.
"During such a period the student and the families both face traumatic experiences but instead of reaching out and helping them we are following a system of covering up the incident," he said.
What the universities say they are doing
State-run university officials are trying to curtail ragging in their institutions by working with the students and making them aware of the consequences of ragging. Following is a cross-section of what they said about their programmes:
University of Sri Jayawardenapura, Senior Lecturer and University Proctor Udaya Kumara Amarasinghe:
"The statistics of ragging in our university is almost zero per cent. This is because the university authorities including the Vice Chancellor and faculty deans continuously talk with students. We have made them aware the depth of their deeds. Now the students themselves have contributed to end ragging.
"In addition, we monitor the students' behaviour at all times. Sub-wardens are deployed in hostels and faculty proctors in the university to constantly watch them. If a student or group of students are found to be guilty, we first try talking to them and in the last resort take steps to punish them."
University of Ruhuna, Students' Advisor Prof. Saman Chandana:
"Ragging in most of the faculties is under control but there are some faculties where the issue still persists. This ragging is not always in the form of physical harm. To curb it we have started to give out letters and other documents to senior students as soon as the fresher intake begins.
"We always encourage students to come and speak to us about such incidents."
University of Kelaniya:
Several attempts were made to contact an official at the university. A staff member who picked up our call said there were no ragging cases reported at the university these days.
"New students should come for ragging to take place," he laughed.
University of Peradeniya, Head of Sociology Department Prof. H.M.D.R. Herath:
"Eight months ago, there were some cases of ragging reported here. We used different mechanisms to tackle this problem. First, we appointed a student councillor for every 20 students. Also, during the orientation period we give senior students two to three months of leave till the new students get used to the university environment. This has helped to reduce ragging.
"We are open to any complaints relating to ragging. Any student can come to an academic and put their case. We have to see how matters go when the new batch is taken this year."