Sri Lankan dancing in the States
Thath Jith School of Dance showcases dancing performances in November
View(s):
Thath Jith School of Dance, traditional Sri Lankan dancing troupe based in the United States will come alive with another performance with its latest show with 'Thath Jith Shilpa Dakma' and 'Kasthirama Dorata Waduma' in November in Los Angeles.
The show will be another unique display of Sri Lankan culture and tradition and is performed by young dancers who are living in Los Angeles and a group of renowned dancers from Sri Lanka.
The show on November 14 would be yet another addition to ten previous successful shows by Thath Jith School of Dance in the United States.
The show will be marked as the first ever dance event by a Sri Lankan traditional dance academy in the state of California and 'Thath Jith Shilpa Dakma' and 'Kasthirama Dorata Waduma' are sponsored by the Ranaviru Foundation of the United States.
"To have the ability to enlighten the Los Angeles community with somewhat forgotten Sri Lankan traditional dance is a great gift that I have received," Prasanna Yamasinghe, the leader of Thath Jith School of Dance said.
"These boys and girls are raised in a country so far away from Sri Lanka and they have grown up in a community that speaks in English and used to an American way of life. They were able to capture the natural Sri Lankan dancing style in a short period of 18 months," Prasanna said speaking about his pupils. "I have created items that will give the audience a chance to learn about customs in history and religion of Sri Lanka," experienced dancing teacher added.
The performance by the 'Kasthirama' dancing troupe will be an addition to 'Thath Jith' show in Los Angeles.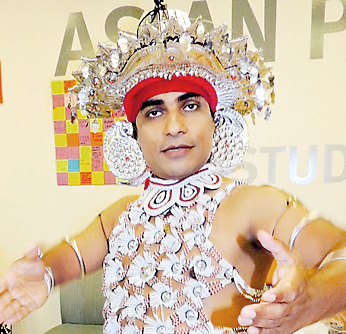 'Kasthirama' was where Prasanna started his dancing and developed his talent as a choreographer. It consists of ten other fellow dancers who mastered their talents under the tutelage of veteran dancing teachers of Sri Lanka. Dananji Amarasinghe, who is a former student of Chamila Wickramasinghe (Sri Lanka), is the troupe leader of Kasthirama. Kasthirama Dance Troupe has performed in California (San Diego, and San Francisco) and other states like Arizona and Hawaii and the upcoming show is their first appearance in Los Angeles.
Amila Prabath Samaranayake, Venuka Wickramaarachchi, Nupathi Nilambara and Nayanajith Rodrigo of Sathisa costumes- Piliyandala who had been designing costumes since the beginning of Thath Jith Academy will once again do the colourful costume designing for the upcoming show.
"By sponsoring first ever event in Los Angeles, we want to express our gratitude to the dancing teacher Mr. Prasanna Yamasinghe for all the hard work he has put in to teach Sri Lankan traditions and culture to the children," said Piyal Matharaarachchi, President Ranaviru Foundation – USA explaining the organisation's decision to organise the major dancing event.