Hitting the right chord with his own guitars
View(s):

Guitars and wood work are his passion. After having completed a successful guitar-building course at the Canadian School of Lutherie, Kurt Stein Tissera seems to be going places.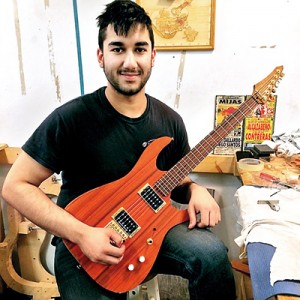 "My passion is building custom-made guitars," says Kurt who lives in Toronto. "I've already built two in the first month and both were sold in the first week."
"It was a great experience turning five different exotic woods into a completely custom instrument for a very capable musician," said Kurt.
An accomplished lead-guitarist, 20-year-old Kurt plays for a number of bands in Toronto. Besides guitars, Kurt also makes fountain pens out of expensive Honduran rosewood burl and 24kt gold plated hardware
His father is journalist Dirk Tissera, Editor of the Sri Lankan Anchorman in Toronto. Mother Michelle Tissera is Indian.